Should you start working with CEX.IO? Find out in our CEX.IO Review.
Read CEX.IO Review to Find Out Whether You Can Trust It
Let's start with the first impression on an exchange titled Cex.IO. The simple and straightforward website leaves a positive first impression. At the moment, CEX.io, previously functioning as a cloud mining service, is considered a multifunctional cryptocurrency exchange. The site has been translated into six languages.
The main page contains all the main functionality offered by the cryptocurrency exchange. For the convenience of users, CEX offers full-fledged mobile applications for iOS and Android.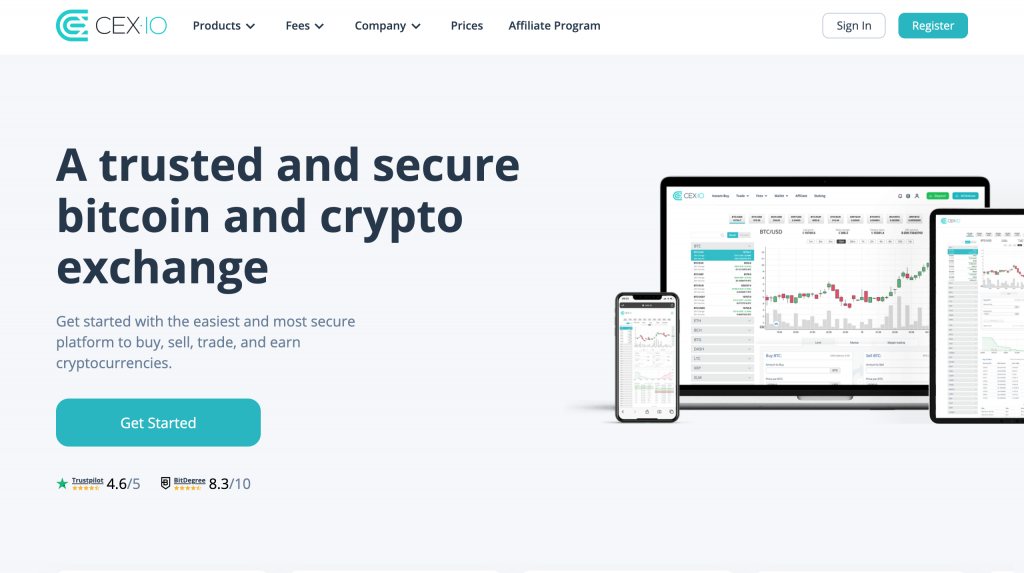 Sign-Up Process
The exchange provides a service around the world with almost no restrictions, but please note that personal data verification has been disabled for citizens of some countries of Eastern Europe, so new customers can only deposit, trade, and withdraw cryptocurrency. There are no restrictions for Russian citizens.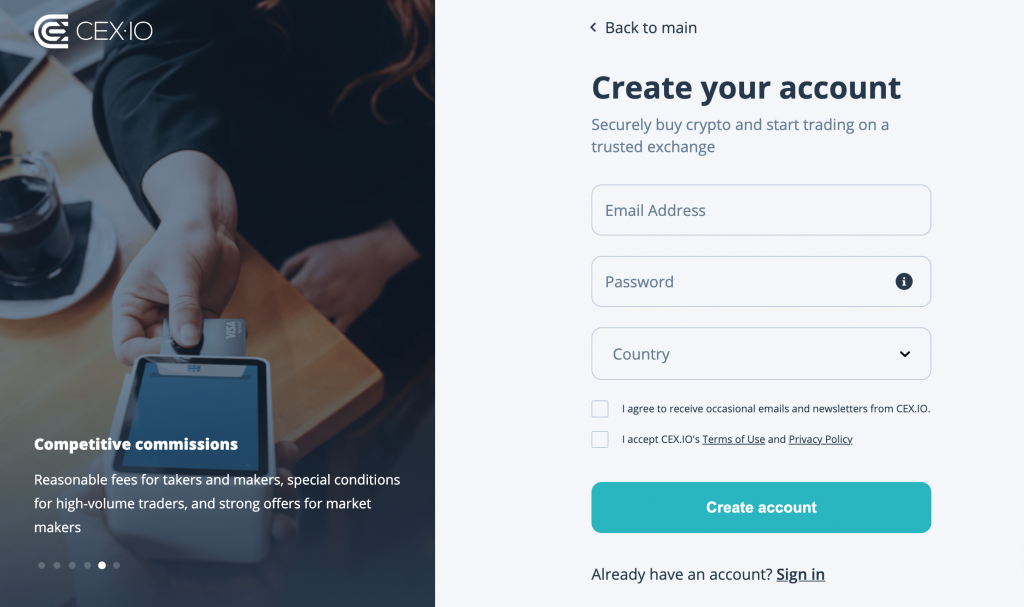 Registration can be done in several ways: either in the standard way by entering an email and password, or through social networks Facebook, VK, Telegram messenger, and Google. By choosing any option for registration, the client will have to indicate their phone number. Each time they log into a personal account, he or she will need to enter the password from the SMS notification.

Trading Interface
The interface is convenient and simple, but at the same time quite informative. The choice of instruments for trading is small: BCH, BTC, BTG, DASH, ETH, GUSD, QASH, XLM, XRP, and ZEC. It is possible to work with fiat currencies. A comfortable trading schedule integrated with the TradingView platform is presented to users.
Please note that in order to carry out operations with fiat money or increase the limits, the client must pass identity verification. The following options are available to all clients: exchange, margin trading, and trades (trading without leverage). Margin trading is available up to 1:10 leverage, using market and limit orders. For opening a deal, a trader will pay 0.2%. For spot trading, the fee will differ depending on the daily volume of the trader.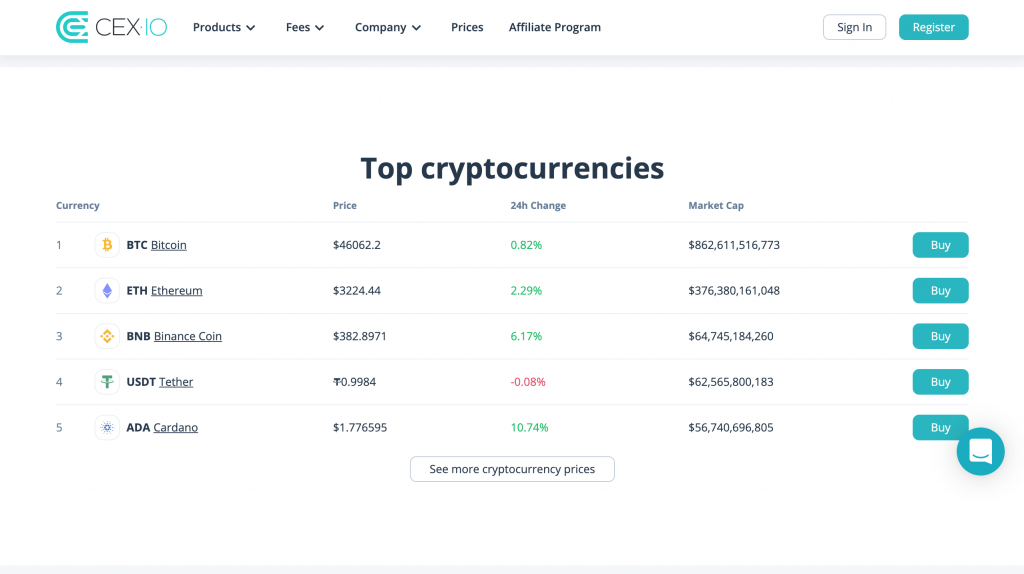 Safety and Regulations
Cex.IO is a reliable and secure exchange for users, even with very serious inquiries. It has never been hacked by hackers. The site is considered one of the most pedantic in checking clients' documents, since it adheres to KYC/AML clauses. Upon completion of registration, the exchange proposes to enable 2FA, and uses an SSL certificate and wallets for cold storage of cryptocurrencies. The exchange operates a "risk-prevention system" that protects the user's balance from negative indicators, when a position can be closed in advance. That is, before the Stop-Loss is reached.
CEX is legally registered in the UK (Certificate of Registration No. 8757996, Trade License UK00003078092), regulated by Fincen (License No. 31000138812172).

Deposit and Withdrawal of Funds
The most convenient deposit methods are bank transfer and payment cards. If the client needs to use a payment card, then it will have to be linked to the account by filling in his or her details in a personal account and confirming them through the Compliance department. You can deposit and withdraw funds in crypto and fiat currencies. The exchange does not charge a commission for using a bank transfer, and for the use of payment cards, you must pay a fee based on the tariffs.
The exchange has deposit and withdrawal limits, which will change depending on the client's status (Basic, Verified, Verified plus, and Corporate). Please note that transfers in fiat currencies will take quite a long time: for cards - 14 days, for currency transfers - 20 days.

Support and Help
CEX technical support is available in Russian and English. It is possible to make a request through the ticket system or contact via online chat. Exchange support works 24/7. To check the speed of responses, we created a request through the ticket system and received a response after 5 minutes.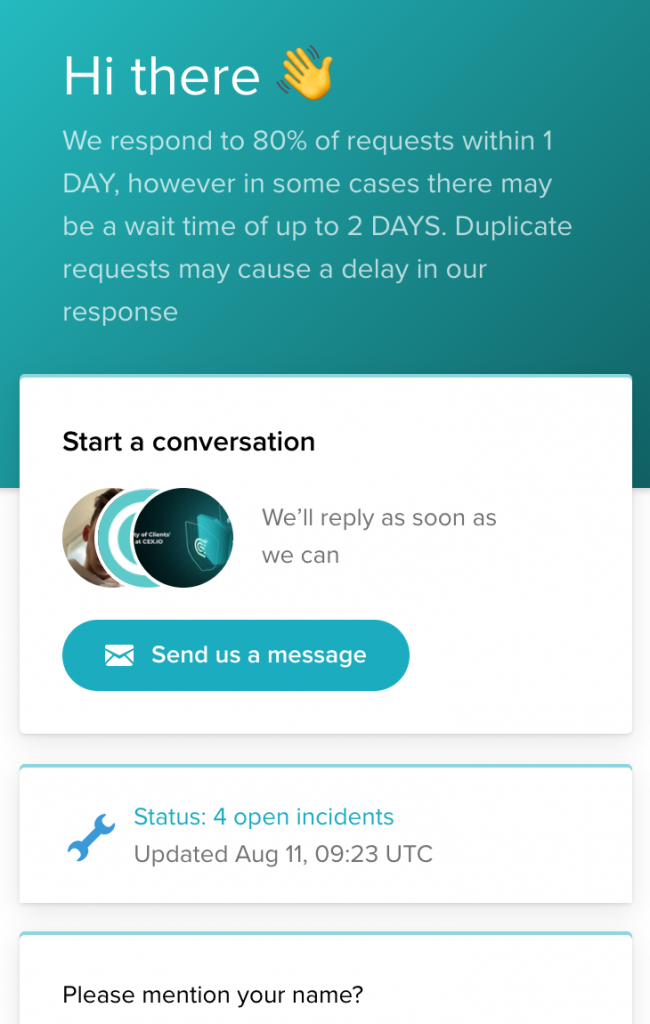 Output
The site is considered reliable and safe for its customers. The exchange disposes of itself thanks to the work with fiat currencies, as well as input and output using payment cards. However, cooperation with CEX can be scared off by too scrupulous observance of AML/KYC rules, periodic blocking of customer accounts for the purpose of checks, requests for information about sources of income, and documents to confirm identity and transactions.
There are no comments at the moment, be the first