Is ChangeHero safe? Read in our detailed ChangeHero review.
ChangeHero Review: App, Security, and Features
ChangeHero offers a convenient brokerage service with transparent fees and 24/7 support. It is perfect for those who need to quickly exchange one coin for another without going through the usual tiring registration and account verification.
It is not necessary to create an account. It's still possible to exchange your funds anonymously. They do not collect personal data and do not oblige users to create an account
Benefits:
- Anonymous transactions
- 24/7 customer support
- Non-custody services mean your coins are at no risk
Drawbacks:
- Relatively high fee for buying cryptocurrency
- Lack of advanced tools and charts
Features:
- Clear interface
- Step-by-step exchange process
- 24/7 support
- User-friendly
- Bank card compatibility
- Visa/MasterCard to quickly exchange centralized currency to crypto
- Honestly and profitably
From the beginning of the transaction to its end, ChangeHero does not hide anything. Each step is transparent and understandable. They display the fee before the exchange starts, and always choose the best rate for Bitcoin and other cryptocurrencies.
How to Exchange Bitcoin?
To exchange Bitcoin with ChangeHero, you need to complete only four steps:
- Enter the amount and your address or other contact information;
- Select a pair of BTC, the type of rate, and enter the wallet address;
- Confirm exchange;
- Check all the data again and confirm the action.



Send BTC
ChangeHero will generate an incoming payment address, and use your wallet to send funds.
Wait a few minutes - your cryptocurrency has already been sent to the wallet. In the same way, you can exchange more than 80 popular cryptocurrencies at ChangeHero almost instantly.
Referral Links
Invite your buddies to exchange cryptocurrency using ChangeHero referral link and get over 50% of the company's income for your referral transactions.
What Can I Do with ChangeHero?
ChangeHero offers an easy and anonymous way to instantly buy, sell, and exchange cryptocurrencies. It supports over 48 cryptocurrencies and 5 fiat currencies. This platform is Visa and Mastercard compatible, offering 24/7 support, including a live chat feature.
ChangeHero also offers real-time cryptocurrency prices, charts, exchange rates, and completes transactions in just 3 easy steps.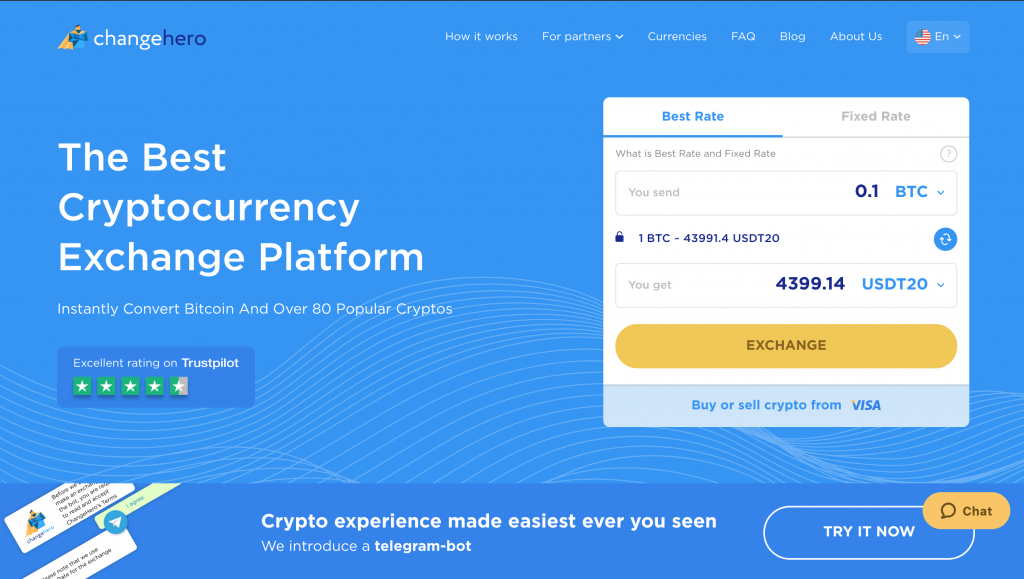 What Coins Can You Buy and Sell on ChangeHero?
ChangeHero currently supports over 48 cryptocurrencies, which is more than many similar crypto brokers. Check out the full list below.
- Bitcoin
- Ethereum
- Bitcoin S.V.
- Tether
- Bitcoin Cash
- Litecoin
- XRP
- Ardor
- Binance coin
- bread
- USD Binance
- Dash
- Digibyte
- Dogecoin
- Ethereum Classic
- Nano Bamboo Fiber
- Nimiq
- OmiseGO
- Paxos standard token
- Tron
- TrueUSD
- US dollar coin
- Stellar
- Tezos
- Edge
- ZCash
What Are the Spreads?
ChangeHero spreads vary depending on whether the user has verified their identity or not. Spreads are lower when checked and higher when not checked. In general, you can expect a 1% to 5% spread when comparing the buy and sell prices of different coins. They are slightly higher, but still within industry limits.
Fees, Limits, and Payment Options at ChangeHero
So, what payment methods does ChangeHero accept? Currently, you can buy cryptocurrency on ChangeHero for US dollars, euros, pounds sterling, Japanese yen, and rubles. The only currently accepted payment method is credit or debit card. Here's a rundown of the associated fees and speed:
- What are the fees and commissions of ChangeHero?
ChangeHero does not charge any fees or charges. Instead, you pay it with a spread - the difference between the price the platform buys cryptocurrency and sells cryptocurrency to you.
- How quickly are coins transferred?
Transactions on ChangeHero usually take one to fifteen minutes, depending on how busy the blockchain is for the cryptocurrency you are buying or selling.
- Are there any restrictions on how much cryptocurrency I can buy with ChangeHero?
The maximum limit for buying cryptocurrency depends on the type of user and whether you have provided supporting documents. You can buy cryptocurrency without verification for a maximum amount of up to €300. With a full review, you can buy up to $10,000 per month.
- Do I need a separate cryptocurrency wallet to use ChangeHero?
Yes, ChangeHero is not a fully secure service that does not store your money. It also offers a service without registration and does not collect any personal information.
- How can I withdraw my money?
Since ChangeHero is not a custodian and does not control your balance, all your purchases are made directly from your credit/debit card or from your wallet, and any coins you buy are delivered directly to your personal wallet.
- What devices can I use ChangeHero on?
Currently, access to your web browser is restricted due to the lack of a mobile app. However, all common browsers such as Chrome, Edge, and Firefox are supported. This means that you can access ChangeHero from:
- Laptop
- Personal computer
- Smartphone
- Tablet
Can I Use ChangeHero in My Country?
You can use ChangeHero from over 100 countries around the world, including the UK, Spain, France, and Germany. Check the list provided at their website to see if your country is available.
ChangeHero currently offers support in English and Russian. Check if ChangeHero is available in your language at its official site.


How Easy Is It to Use ChangeHero?
A typical anonymous transaction on ChangeHero takes less than 20 minutes and is straightforward. You simply enter the amount of cryptocurrency you want to buy, the address of the wallet you want to send it to, check the details, accept the terms and conditions, and ChangeHero sends your money.
During this process, the platform offers you permanent, second-to-second updates and provides all the details in an easy-to-read summary.
The only downside is that ChangeHero is currently accessible only through your web browser, as there is no mobile app.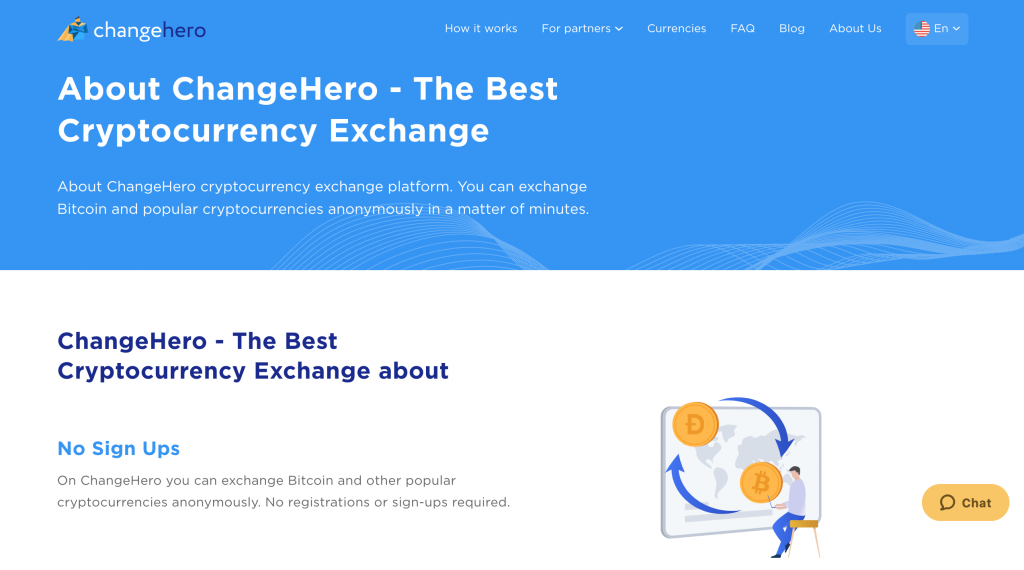 Key Features
There are several key features of ChangeHero that have helped make it an attractive crypto broker for people looking to buy and sell various cryptocurrencies. Here are three of the best features of their service.
- No registration required
No account creation or personal information is required to complete transactions at ChangeHero. This means that you can buy bitcoins and other cryptocurrencies anonymously on the platform. However, you can only do this if your desired amount is up to €300; registration must be completed for larger purchases.
- 24/7 support
The support team is available any time of the day to help solve problems via email or live chat. Just visit the website and click "Chat" in the lower right corner or email the team at [email protected].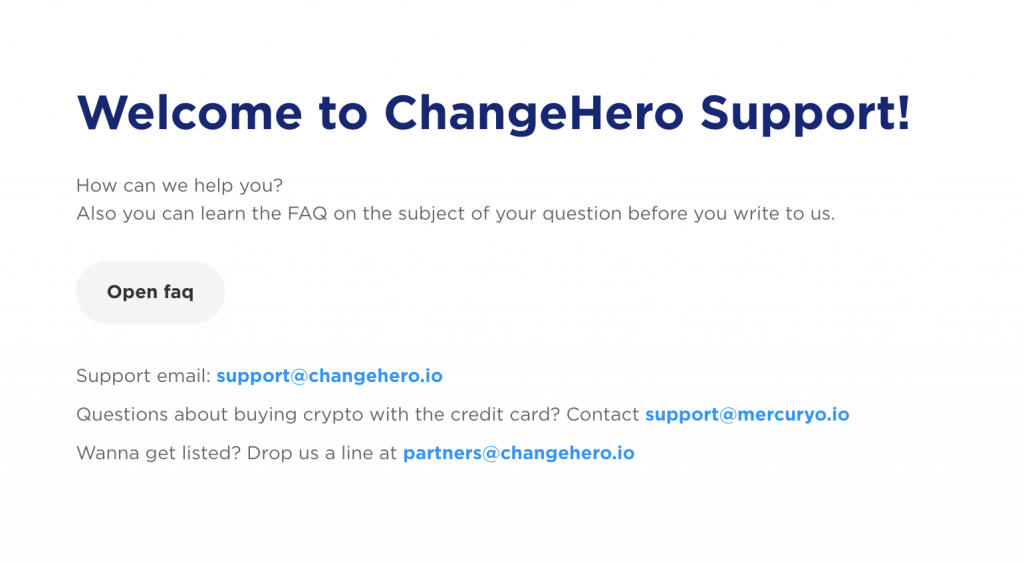 - Safety and regulation

Since ChangeHero is a secured service, you are in complete control and your coins will either be exchanged and transferred to your debit/credit card account or your crypto wallet.
ChangeHero does not store your money. They are sent to your wallet or debit/credit card account of your choice immediately after the transaction is completed. This means that you never store any currency (fiat or cryptocurrency) on the platform and therefore it is not at risk.
ChangeHero is not regulated by any tax authorities, but it is a checked service that does not store your funds and follows best practices. If you want to buy cryptocurrency worth more than €300, you will need to verify your identity in order for ChangeHero to comply with the KYC rules.

Our Verdict
ChangeHero is a simple and convenient platform for beginners who are new to the world of cryptocurrencies. It has an intuitive and simple layout that makes it easy to buy and sell cryptocurrencies. The spreads applied by the broker are a little high (around 4% on the average), but since the service is reliable and can be used to buy cryptocurrency anonymously, this is not too much.
ChangeHero also has some features that even experienced traders will appreciate. That is, for example, a non-custodian service for safer transactions and no exchange restrictions (provided you have verified your identity). The lack of tools and polished charts will make seasoned traders want more, but these users would be better off using a full-fledged cryptocurrency exchange than brokerage services.
There are no comments at the moment, be the first