After reading our Darwinex overview, you will find out if the broker is a fraud and what services he provides.
Darwinex Online Brokerage Review
Darwinex is a UK-based broker owned by Tradeslide Trading Tech Limited. The organization provides an opportunity not only to trade, but to engage in long-term investments. The Darwinex company was founded in 2012. It is regulated by the FCA through the UK subsidiary of Tradeslide Trading Tech Limited. FCA is the UK Financial Conduct Authority. This regulation is subject to the MiFID regulations, which apply to the 31 member states of the European Union. That is, darwinex.com has the right to operate throughout the EU.
The site has been translated into four languages ​​including English, Chinese, French, and Spanish. The interface is intuitive. Since 2014, the company has begun to provide an innovative social trading service. It is a social trading and investment platform that connects independent traders with potential retail investors. The company's offices are located in the UK and Spain.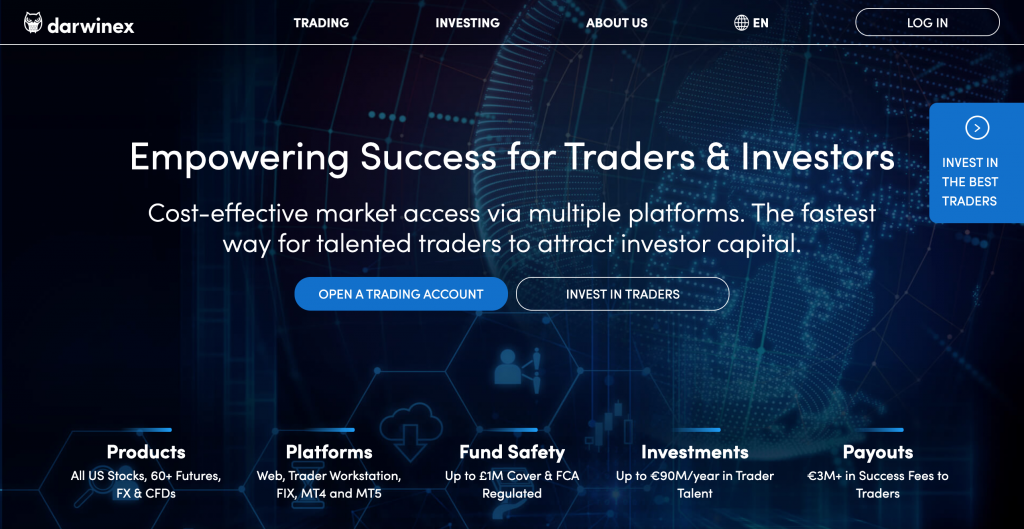 Registration Procedure
Registration is standard, like for every broker regulated by the Financial Conduct Authority (FCA). You need to provide personal data, email, mobile phone number, and residential address. Each new client must answer a few basic financial questions to make sure they understand the risks associated with trading. You will also need to provide a scanned color copy of your passport, driver's license, or ID. To confirm your residence, you will need a utility bill or bank statement no older than three months.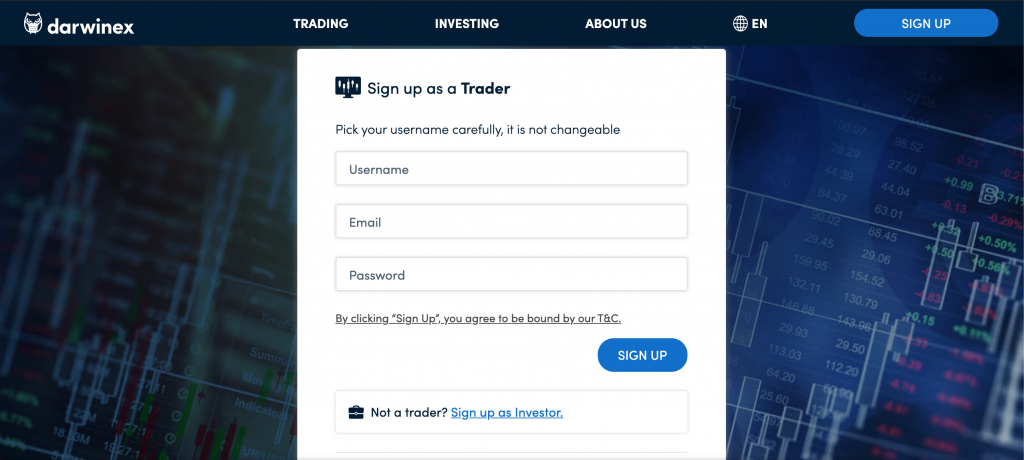 Deposit and Withdrawal at Darwinex
A deposit account can be opened in one of three currencies: EUR, USD, and GBP. Accounts can be funded via bank transfer, Visa credit/debit card, or Trustly payment system. For replenishment of the deposit, no fee is charged. Funds are credited to the user's Darwinex wallet and from there can be distributed to trading/investor accounts. Withdrawing funds is possible to the same account from which the deposit was made. Withdrawals can be made via bank transfer, Visa credit/debit card, or Trustly payment system. Withdrawal fees are:
- Visa - 1%
- Trustly - 3.5 euros

Trading Terms & Conditions
The minimum initial deposit to open an account with Darwinex is $500. The broker offers over 300 tradable instruments including currencies, stocks, commodities, indices, and cryptocurrencies. Spread from 0.2 pips, plus a commission of $ 5 per lot. Maximum leverage in Darwinex is up to 1: 200
Trading Interface
For independent trading, Darwinex offers traders to use the popular platforms MetaTrader 4 and MetaTrader 5. For social trading, its own proprietary software has been created (Darwin Exchange). The signal copying service offered by Darwinex is different from conventional social trading services. You cannot see other traders' operations - instead, you are offered to copy trading strategies. The strategies are called "Darwins." Investors who decide to repeat the trader's strategy they like can do so by purchasing Darwins.
Initially, the value of the value index is 100, and this value will increase or decrease, depending on the trading efficiency of the strategy. Darwins' price is updated every 30 seconds.

Safety & Security
Tradeslide Trading Tech Limited is authorized and regulated by the UK Financial Conduct Authority (FCA), and its license number 586466.
Darwinex provides its clients with additional insurance for their investments, totaling up to £500,000, which far exceeds the standard FSCS protection of only £50,000. All client funds are kept in a separate client account (with Barclays Bank UK).
Technical Support and Help
Customer support can be reached via phone, email, and/or a dedicated LIVE chat. Darwinex supports multiple languages ​​including English, Spanish, Chinese, and French. From our experience with the local tech support, we can say that they respond quickly and are very competent. For one ticket, the answer is provided within 1-2 hours.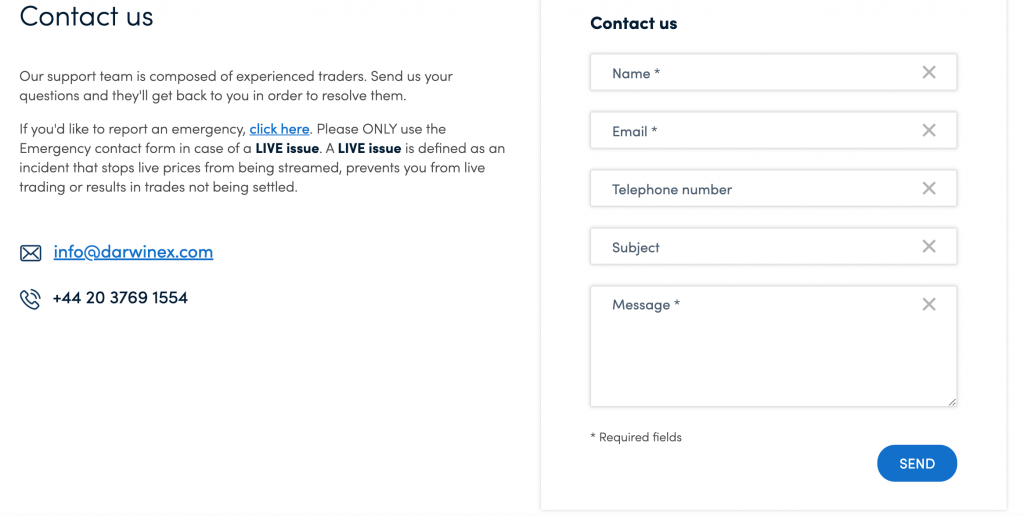 For six weeks, 229 Darvinex clients were interviewed. You can see the results obtained below:

- average connection time: <1 minute;
- average NPS: 2.2 / 10 (consumer loyalty index); average score for professionalism: 1.9 / 10;
- total score: 3.3 / 10;
- rating: 22nd place (out of 23).

As you can see, the results are not very good. We would rather call the level of Darwinex support mediocre.
Verdict
In our opinion, Darwinex is one of the best brokers in the retail financial services market offering a DMA (Direct Market Access) account, which gives the trader direct access to liquidity providers. If you are a successful trader, cooperating with Darwinex, you will be able to manage funds of large investors or trade funds of other traders. Traders, profitable strategies, or Darwins have a chance to earn 20% of all profits generated from managed accounts. Contests are also held monthly and €400,000 is distributed to the top 16 traders.
Separately, we would like to highlight the opinion that "Darwinex" is definitely not suitable for residents of the post-Soviet space, since they cannot afford to pay broker commissions and taxes in the eurozone. Our team believes that darwinex.com is not a scam project, and its founders are not swindlers. However, we are not sure that it will be possible to make big money with this broker due to the harsh taxation.
There are no comments at the moment, be the first