Is Luno safe or not? Read more in our Luno Review!
Luno Review 2021: What You Should Know
What are the odds that you will bump into a regional BTC exchange today? Due to the recent BTC hype, people have been madly searching for exchange sites to trade and exchange fiat money for cryptocurrency. This is because they want to get into the game in crypto mode, and visiting exchange sites is just one option they have.
Today, we will investigate Luno.com and determine if anyone can create an account with them and verify its authenticity? Join us as we explore the possibilities of their website, try to verify an account, and generally know what their services are. Let's talk about this without further ado!



Background/History
Formerly known as BitX, Luno.com was founded in 2013 and has been providing its currency exchange services ever since. The headquarters of the company are located in London, but its activities cover the entire globe! They offer buying and selling bitcoins and have traded over a billion US dollars in them since their inception.
You need to create an account with them through their website. To create an account, you need to provide your valid email address, country of residence - and that's it! Users can also register using their Google or Facebook accounts if they wish to subscribe to these options. A confirmation email will be sent to the specified email address. Once the email address is verified, you will be automatically redirected to their site and logged into your account. To verify the account, it is enough to enter the mobile phone number for verification.
Please keep in mind that the selected country will determine the country code for this step, so make sure you enter the correct country you are in and have access to your cell phone for verification. The higher the verification level is, the higher the limits for each account are. For example, an Indonesian Level 1 account may have a maximum IDR of 15,000,000,000 deposits and withdrawals. Level 2 increases this to 25,000,000 labels per month for both deposits and withdrawals. For Indonesian Tier 3 accounts, there are no restrictions on what the user can deposit and withdraw funds.
Please keep in mind that this is for the Indonesian account holder only and country specific restrictions still apply depending on the account tier. For more details on their verification levels and limitations, please go to the official website.
Features of the Platform
Global use of their website means access to their wallets. It means that wherever you are in the world, you can use their wallet, but not the exchange services. Luno.com is a wallet and exchange combination for people who don't know anything about crypto or, vice versa, possess some trading experience.


The company offers two-factor authentication enhanced for accounts, which means an extra layer of security. Luno.com has a mobile app where users can purchase BTC with just a few taps and swipes. This feature is great as you don't need to have your computer nearby to buy BTC and you can do it almost anywhere you want!
Trade with Luno.com
Since we are not part of the countries that have access to their exchange platform, we cannot show you guys what their exchange platform looks like. The exchange is not available for users in Europe, but it is available for users in Indonesia, Malaysia, Nigeria, and South Africa.
The validation process separates these countries and creates an account suitable for your access. For instant buying and selling, Luno has set certain limits depending on where you are from. The BTC / IDR market allows a minimum of 0.0005 BTC per trade and a maximum of 2.00 BTC or 15,000.00 IDR up to a maximum of 120,000,000.00 IDR.
For users with full access to the site, we strongly encourage you to study the users' feedback and testimonials to get an insight into how this exchange platform works.
How to Pay at Luno
Trading fees range from reasonable to expensive when compared to existing exchange websites. Here at Luno.com, they have zero manufacturing fees, but they range from 0.20% to 1.00% per transaction.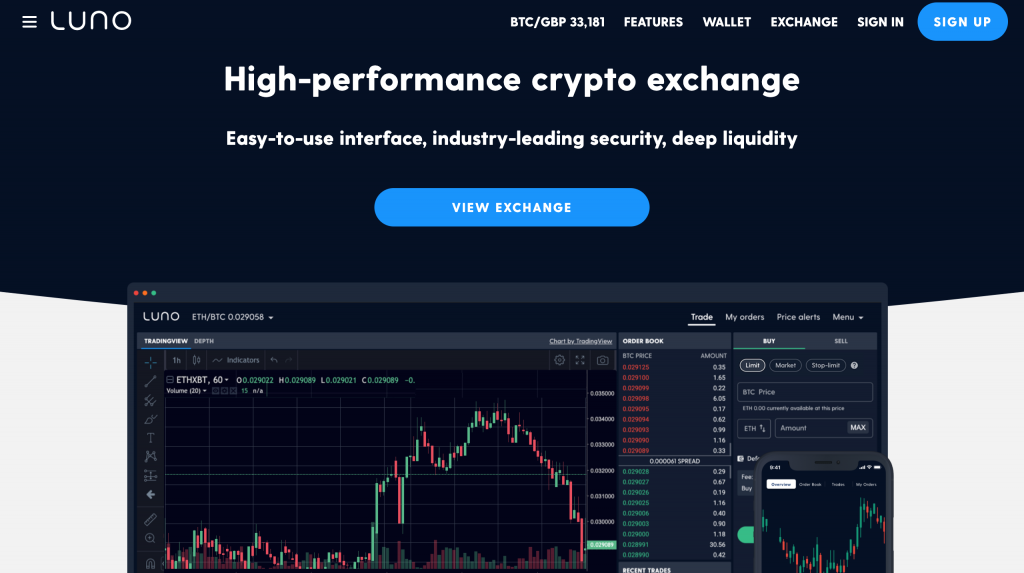 Deposits and Withdrawals
Here at Luno.com, they accept deposits with fiat money and BTC. The following funding methods are accepted:
- SEPA Transfer
- Bank transfer
- Interbank GIRO/IBFT
- Debit/Credit card via PayU
- Bank transfer via PayU
- EFT
The deposit methods also depend on the country you are in as not all of the options listed above are available in your country. Funding fees range from 1.58% to ZAR + 5.00% per transaction.
When it comes to withdrawals, they accept SEPA transfer, bank transfer, interbank transfer, GIRO / IBFT interbank transfer, bank transfer, and EFT. Again, these options depend on the country you come from. For a complete list of accepted payment methods and countries, explore their website.
Customer Service
The site literally has no direct customer service channels. We strongly recommend that you read more about negative site reviews before posting on the site, as you do not have direct contact.
The only help they can provide is the FAQ section, which is useless when it comes to problems requiring immediate resolution. They have bank accounts on Facebook, Twitter, Google Plus, and Instagram.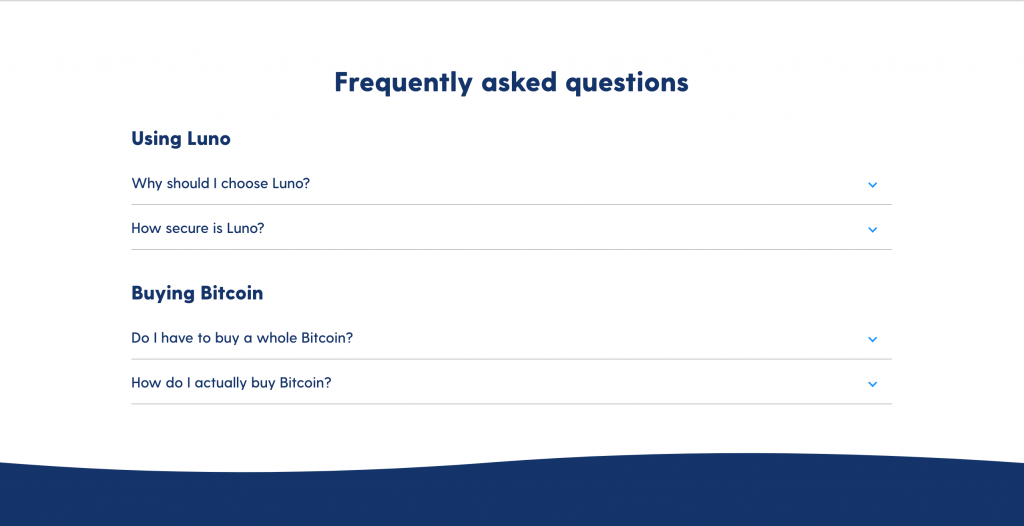 Pros
- Mobile app
- Easy account creation
Cons
- Has no customer support
- Limited options (for countries not on their exchange list)
- Expensive trading fees
Luno Review Conclusion
There is no customer support service on the site. In addition, Luno.com has some serious restrictions for countries that are not part of their exchange platform. All in all, they offer a good BTC wallet that can be used by anyone around the world. The website is not lagging and you are done. They even have tutorials for people new to BTC. Overall, the site is not bad, but it has some serious drawbacks.
There are no comments at the moment, be the first