Read more about what Simplex is and how to work with it in our Simplex review
Professional Simplex Brokerage Review
There are many ways to buy bitcoin and other cryptocoins. For example, through exchanges and independent dealers; for cash, by phone, or even exchanging for items from Dota 2 and Counter-Strike.
The Ethereum cryptocurrency has become the second most popular after Bitcoin and has been confidently holding its positions for several years. To buy Ethereum, you first need to think about where to store it. There are several types of wallets, each with their own advantages.
One of the available options in the market today is known as Simplex. It is a mix of a crypto brokerage and a payment gateway. The project was initiated in 2014 as a Fintech startup.

So… Is Simplex legit as a cryptocurrency brokerage? It is legit, yes - but the terminology can still get pretty confusing. While some services are legitimate and regulated, they may still do harm to user's privacy and confidentiality. You see, some user Simplex reviews point out that the company in question isn't actually a cryptocurrency brokerage per se… At least not JUST that. Instead, it's a mixture of a brokerage and a payment gateway. However, it is not always a good idea to combine these two. Let's have a closer look at how the platform functions and decide whether you can trust it.
How Simplex Works
The entire system of Simplex is based on a proprietary AI algorithm. The idea is to gather data points from each user and operation. This info assists with mitigating possible fraud, but the problem is that Simplex can use your data for its own purposes.
The local AI does not actually refuse transactions. In case a user tries to purchase something, they would have to verify that action via email/phone. As for the specific steps necessary to use Simplex, here we go:
- After logging into your account and transferring to the main page, select 【Buy Cryptocurrencies】 in the upper left corner.

- Select the fiat currency and enter the amount you are going to spend. Choose the cryptocurrency you want to buy and click 【Next】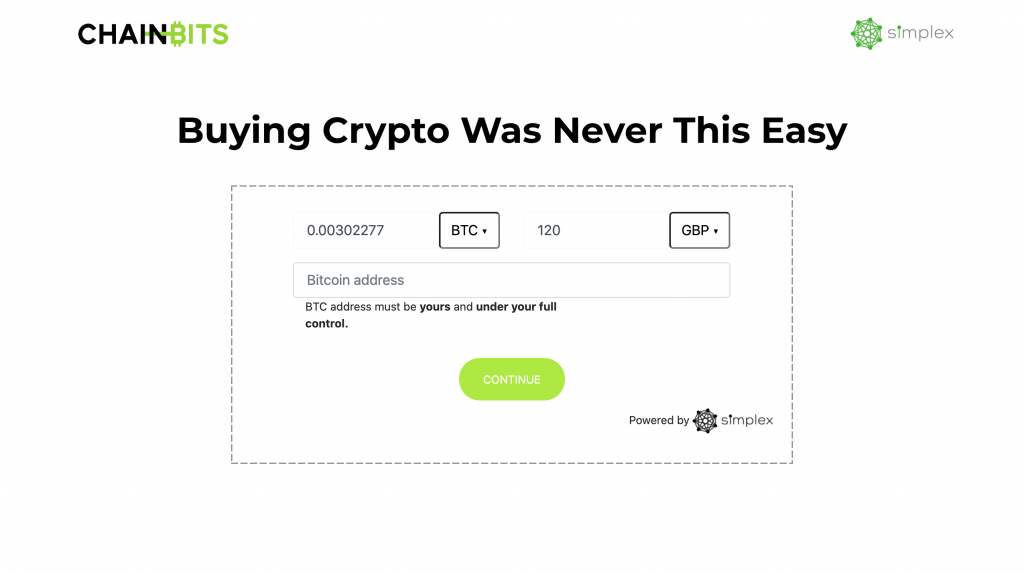 - Simplex supports a wide variety of fiat currencies. For example, if you choose USD, you will be able to see its analogy in the desired crypto.
Before going to the next step, click on [Learn More], where you can find out more information about Simplex, such as commission rate, notes, etc.
- Click on [Ok, Okay] to go back to the previous page, then click on [Buy] to go to the next step.
- Check the order details carefully. The total cost is the payment amount, which includes the payment for the cryptocurrency and the commission. Read the disclaimer and check the box next to "I have read and agree." Then click on [Go to Payment].
- After that, you will be transferred to Simplex, where you will need to fill in the necessary information to verify your personal data. If you are already verified on Simplex, our next ones may be skipped.
- Confirm your email address and phone number. Enter the verification code received on the phone. A confirmation link will be sent via email.
- After verification, return to the page and click [Continue].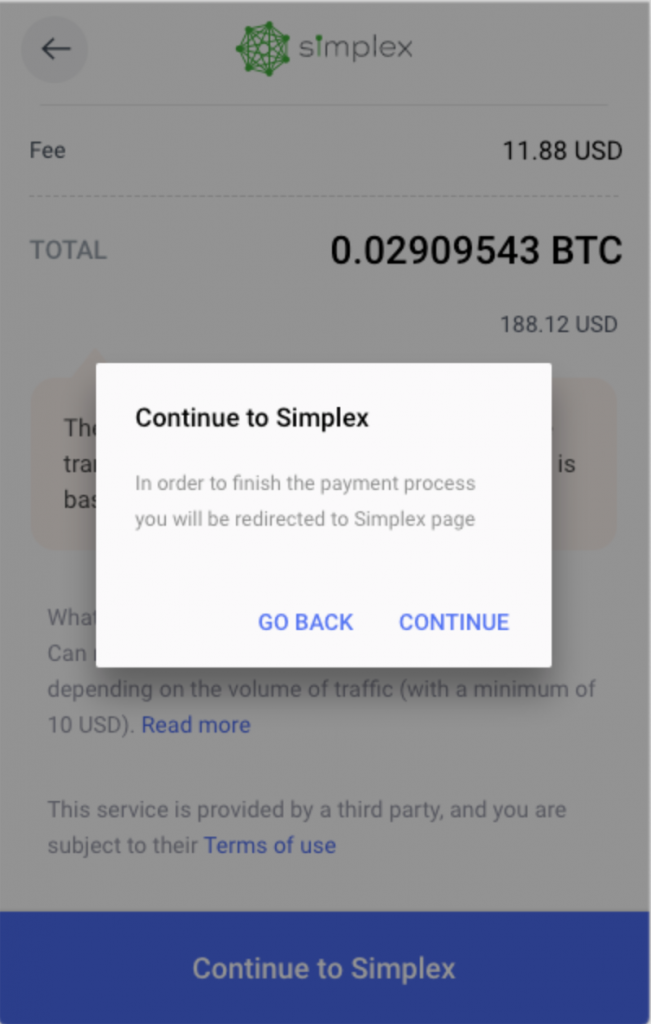 - Fill in your bank card details. You must use your own Visa card or Mastercard.
They ask you to upload your identity documents and make sure that you provide a valid document issued by the government that contains the expiration date, your date of birth, and your full, actual name.
Documents and photos must be in color. The image must be of high quality: make sure the photo is not blurry and the lighting is bright enough. Do not hurry up to upload all of the documents required by this platform. They may simply save this info in their database and use it for their own purposes.


Payment Options at Simplex
The company accepts MasterCard and VISA. Those are not the safest options out there. Such popular alternatives as Discover and American Express are currently missing, but they promise to add them in the near future.
Pick the card carrier and find out whether it is okay with crypto transactions. Remember that pre-paid cards are not usually accepted.
Simplex supports plenty of crypto options. As of today, it is possible to purchase/sell the following tokens at Simplex:
- Bitcoin
- Bitcoin Cash
- Ethereum
- Ripple
- BNB
- Litecoin
- Stellar
- Cosmos


Is Simplex Good for You? Verdict
Another question is whether Simplex is the right choice for you. In general, it does not correspond to requirements of cryptocurrency merchants and marketplaces. It does not make it possible to buy crypto fast and with no problems. Simplex does not guarantee reliability and total security.

Most platforms that guarantee defense against fraud and scam think that Simplex is nothing but another fraudulent service that offers crypto trading.

Both individual traders and entire marketplaces do not benefit from using this platform. We could see that from the numerous comments and negative reviews published by experts and ordinary users. What if you prefer transacting with physical cash instead of digital one? Then, Simplex is definitely not the best option for you. Those who live in any region that does not meet the Financial Action Task Force regulations cannot use Simplex as well.


There are no comments at the moment, be the first