Should you trust Bybit? Read in our detailed Bybit Review!
ByBit Review 2021: Major Things to Consider
Bybit Exchange is a popular peer-to-peer (P2P) Bitcoin and cryptocurrency futures exchange based in Singapore. This Bybit review provides detailed information on everything you need to know about the platform in order to make an informed decision about whether it's right for you.
First of all, the Bybit exchange is operated by Bybit Fintech Limited, a British Virgin Islands company. In the "About Us" section, the exchange introduces visitors to its team of experts in the field of cryptocurrency and finance. In particular, the Bybit team boasts Ex-Morgan Stanley, Tencent, and other well-known organizations that are featured on Linkedin.
Bybit offers perpetual futures contracts with 100:1 leverage. This means that the exchange is trying to compete with established exchanges like Binance and Phemex, which have similar futures without expiration.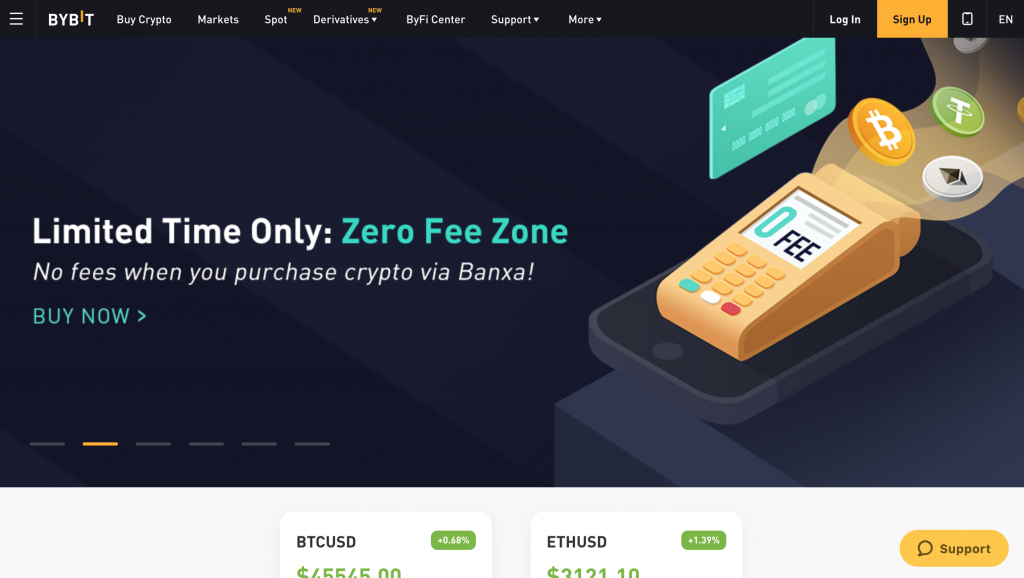 Why Choose ByBit?
BitMEX is one of the most popular exchanges that has been criticized until recently. In particular, its founders were accused of money laundering by the US Attorney's Office.
Due to these developments, traders are looking for a less risky and more technologically advanced exchange that will satisfy their needs. In reality, BitMEX had many order book problems that could lead to bad trades and critical errors, eventually costing traders money.
In addition to the latest developments related to BitMEX, there is little reason for traders to stay on the platform given that this is the end of the BitMEX era.
Can we say that ByBit is better than the competitors? Today, new exchanges have emerged as an alternative, offering, among other things, a much better interface and leveraged trading experience. Among all new exchanges, Bybit is positioned to have a significant share in 2021. The reasons will be clarified in this Bybit review.
Bybit is capable of handling 100,000 TPS (transactions per second), far superior to the competition. To this day, Bybit has never experienced system overload, which looks very promising. Just like at many exchanges, your reputation grows over time. It is one of the main reasons traders are currently choosing Bybit over BitMEX and other exchanges.
Who Owns Bybit?
In 2018, Bybit was founded by Bybit owner and CEO Ben Zhou. Ben has experience in the Forex market as he successfully managed the Forex exchange for 8 years. Other members of the Bybit team have experience working in Morgan Stanley, Tencent, and other highly reputable companies.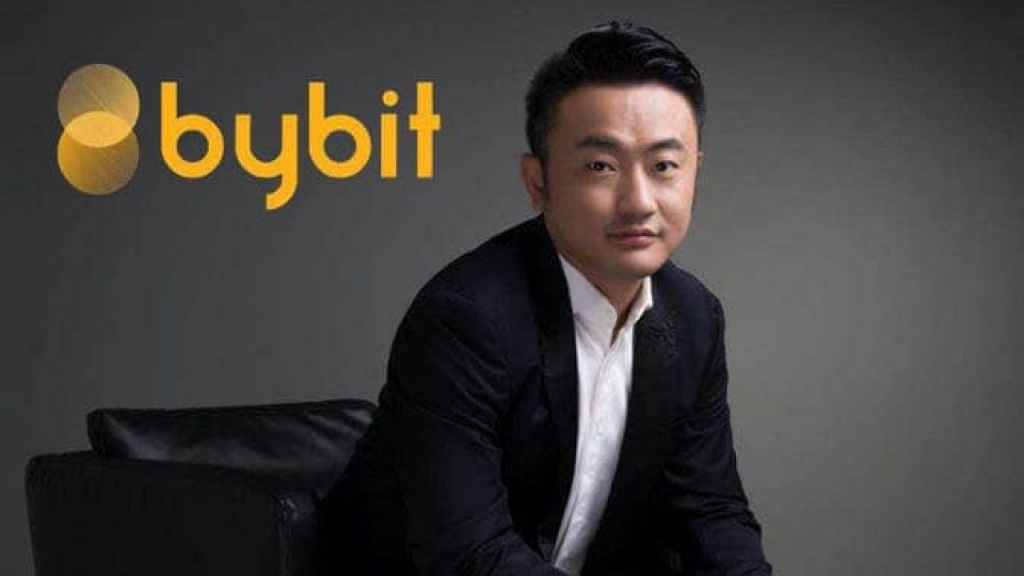 Bybit has an impressive roster of co-founders and team members. This is likely one of the main reasons for the overwhelming success of the exchange.
Where Is Bybit Located?
Bybit is headquartered in Singapore with operational offices in Hong Kong. The exchange operates under the name Bybit Fintech Limited and is registered in the British Virgin Islands.
The first thing that catches your eye when looking at Bybit's interface is that it is much more user-friendly than most other cryptocurrency exchanges.
Compared to its primary competitors, it looks like Bybit borrowed the interface idea from Binance. This is good, because most of Binance's success lies in usability. You can easily switch between dark and light themes if you like.
Bybit Mobile App
In the digital age when traders are constantly on the move, you will probably like someone else to keep track of your open positions. This is why Bybit has created a highly functional mobile app that is available on iOS and Android.
In fact, the app has the same functionality as the desktop version of Bybit, with advanced schedules and order management. Traders can also set a range of price levels to send as push notifications to their phone.
As a Bybit cryptocurrency derivatives trader, you also have these advanced order forms available on the main exchange. The ByBit app is functional, but as a trader, you probably prefer to trade over the Internet on your PC. However, if you are constantly on the go, or if you have things to do and keep an eye on the trade, then the Bybit app will help you a lot. Of course, you cannot easily study charts and control many markets at the same time. Nevertheless, it is quite a useful tool for monitoring positions.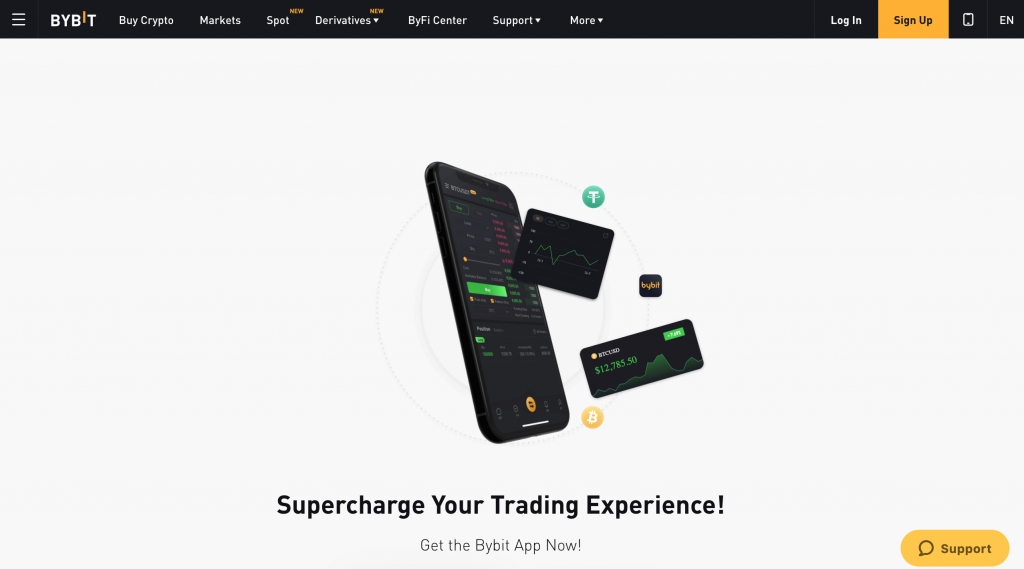 Buying and Selling Bitcoin on Bybit
Bybit has advanced ordering functionality which is the best option in terms of leveraged trading opportunities. This is, perhaps, one of the best features of the crypto trading platform as it allows you to not only customize your entries but manage your risks.
You will see the special form when placing your order. At the top of the form, you can select one of the types of orders. Below you can adjust the leverage, quantity, and price (in USD). There is an additional information about the specifics of the contract.
Example:
- 100x leverage
Bitcoin price:
- $ 48076.08 (7d: -17.6%)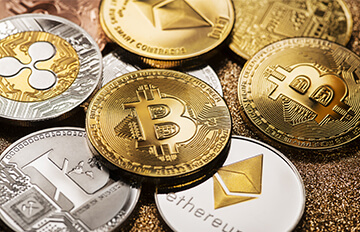 Start Trading
Basically, on the Bybit platform, you can choose three types of orders, described below.

Market Order
This is an order that is placed at the current market price. It will place and execute an "offer" order if it is a sell order or "demand" if it is a buy order.
Limit Order
This is an order that is usually the recommended way to trade. The order is placed at the level selected by the trader, which can be removed from the current market price. Technically, this order is open and is waiting to be "filled" by a buyer or a seller who is ready to work at this price.
Conditional Order
This order will be executed, either as a market order or as a limit order, when a certain price level is reached. When you close a trade, you define the trigger price along with direction, quantity, and leverage. Such orders are usually used when technically significant levels are reached.
Stop Losses
When trading with leverage, stop losses are an important feature that can help you avoid losing your trading account. There are several ways to set a stop loss on Bybit and traders should become familiar with these features in order to optimize their trading.
Your position is listed in BTC and USD with fees. Bybit has something that others don't: it always shows the value of your position in USD. Traders who trade on BitMEX or other exchanges know that it is inconvenient to calculate conversions on their own. The Bybit interface will show the profit of your position in both BTC and USD.
Does Bybit Require KYC? (Know Your Customer)
No, KYC is not required to start trading on Bybit. It means that you can register with Bybit and start trading Bitcoin immediately. It takes 30 seconds to register an account and the only thing you need to provide is your email address and create a password.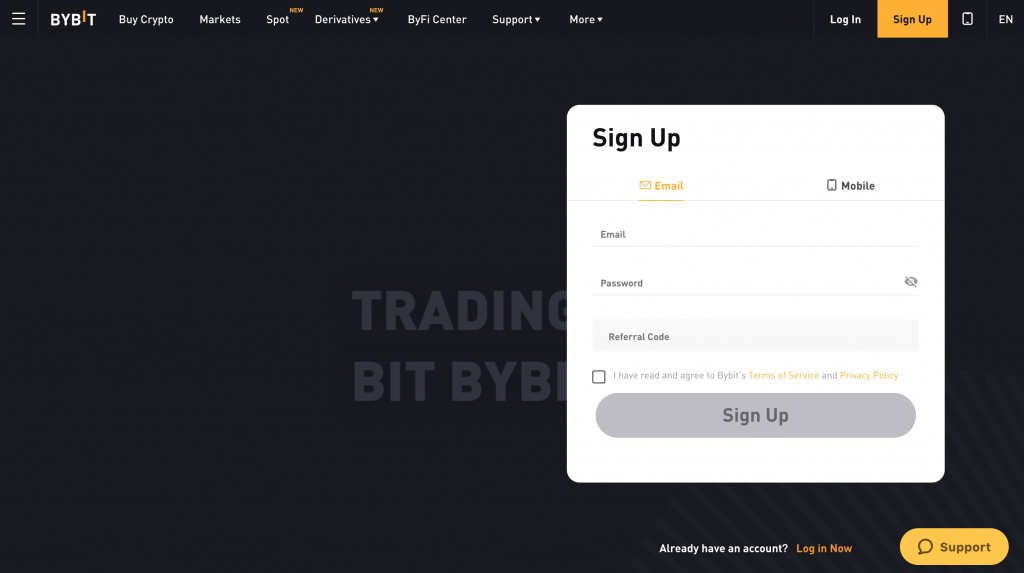 Are Your Funds Safe at Bybit?
Bybit has never been hacked yet, unlike BitMEX, Kraken, Coinbase and a few other players in the crypto space. However, there is no such thing as a risk-free exchange. When you deposit bitcoin with Bybit, you need to understand that you are trusting your funds to an exchange.
All your funds on Bybit are safely stored in cold storage. According to the website, if Bybit is hacked, the platform will fully compensate the customer for the loss. As for withdrawing funds from Bybit, keep in mind that you can do that three times a day. While on BitMEX and other competitors, you can withdraw funds only once a day at a certain time.
Bonus and Referral Program from Bybit
The main reason for Bybit's explosive growth is their referral or affiliate program. You receive a fee of 30% on all trading fees of users who sign up under your name. In addition, you will receive a 10% discount from sub-partners who register under your direct partners. If you have a friend who wants to sign up, make sure they use your referral link so you can earn extra interest on your royalties.

Conclusion
This Bybit review was written in light of the fact that Bitcoin derivatives trading is booming, and the recent massive exit of traders from BitMEX has led many to seek alternative options.
Exchanges such as Binance and Coinbase already offer excellent services for exchanging cryptocurrency for cryptocurrency. As such, Bybit can offer futures and derivatives for leveraged trading.
The platform is rapidly gaining popularity today. Bybit has never been hacked and has been in business for several years with an excellent track record. The order book is one of the largest in the world and provides ample liquidity to all but the largest retail investors.
Perhaps, Bybit's main advantage is that instead of offering only BTC/ETH futures contracts, it created XRP and EOS futures, as well as several new products to feed traders' voracious appetite. For those looking to trade digital coin futures, Bybit is a great option.
There are no comments at the moment, be the first