Can you trust Coinmama? Read in our Coinmama review.
Coinmama Review 2021
Coinmama is a popular crypto exchange trusted by millions of users worldwide. In this pro review, you will find out more about setting up an account and using this service. Read it, and you'll know how to purchase bitcoins online.
Advantages
- Is present in 188 countries and most of the United States
- Well-protected and confidential
- Responsive client support
- Credit/Debit cards available
- User-friendly service
Disadvantages
- Phone support is absent
- Restricted number of crypto to trade
Defining Coinmama
This broker from Israel has been active since 2013. It is a quick and reliable way to obtain bitcoins and other digital tokens. Coinmama is not available only in countries with strict laws regarding cryptocurrency, such as North Korea. It is rather an exchange broker than a marketplace. That is what makes Coinmama different from Binance, for instance. The first one stores digital coins and sells them right to the clients for fiat cash.

Benefits of Using Coinmama
Daily Payment Options
On most platforms, users cannot purchase crypto currencies with fiat money. The common way is to trade one coin for another. That is why those platforms do not suit newcomers. If you are a beginner, you can get bitcoin or some other tokens with your fiat money like USD and EUR with no problems at Coinmama. Just link the card you use or pick a payment system. Visa and MasterCard are recommended.


Keep on Getting Crypto to Personal Wallet
Everything that you buy at Coinmama goes right into your e-wallet. As the transaction is confirmed, you will see a decrease in your balance. No need to use third-party storages or register new wallets.

Responsive & Friendly Site
The navigation and interface are simple and intuitive, and the website contains all the explanations that a newcomer may need. The order form is easy, and the graphs and stats are interpreted.
Just open and confirm your profile, type in the details of the preferred payment method, and select the number of tokens to purchase. This platform is almost perfect for dummies.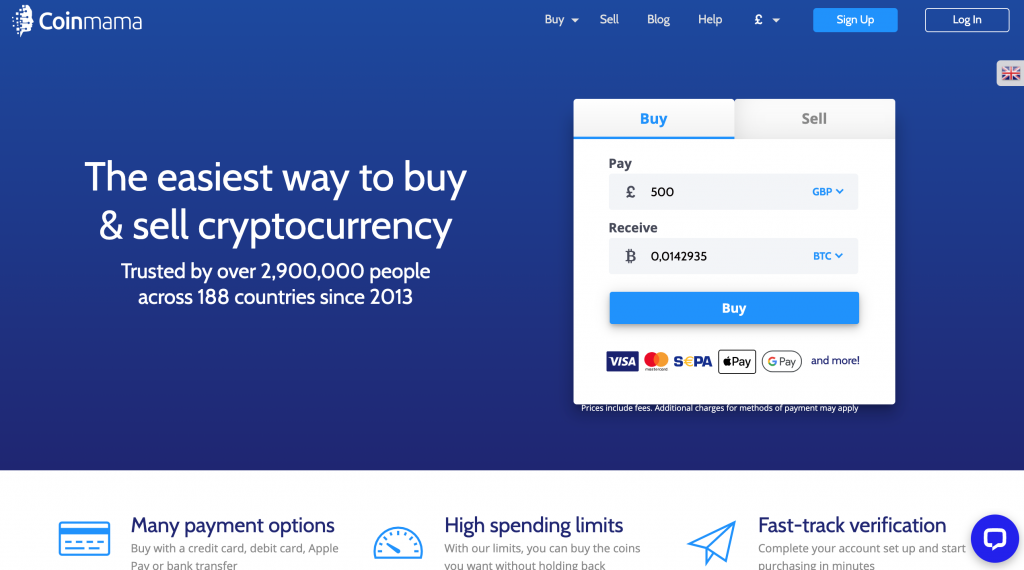 Responsive and Responsible Support
The local help center is available via most of the known methods. Experts recommend using the live chat as your message will be noticed faster. However, for large cases, it is better to send all the details to email support. The working schedule is Sunday-Thursday, 9:00-18:00 GMT+3. Except for the support ticket, it is possible to find the official group on Facebook and reach out to them there. The FAQ section is also present.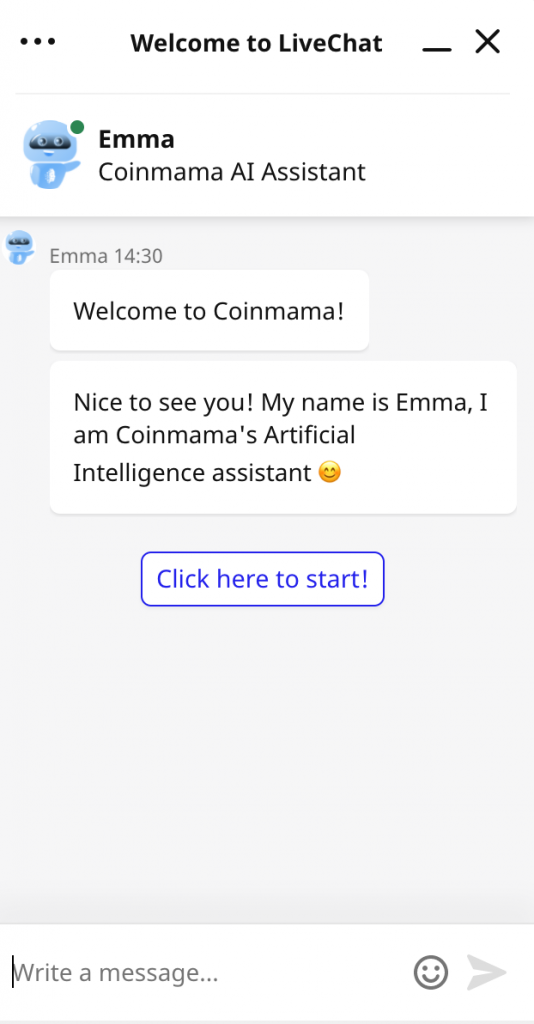 Highly Secured
FINCEN regulates and monitors the activity of Coinmama. That is the reliable and authoritative figure from the United States. It is done to exclude any kinds of scam and fraud. The only time Coinmama experienced some problems was back in 2019, and now it is more thoroughly controlled.

Drawbacks of the Service

Where there are pros, there are some cons. We will share what we disliked about Coinmama.

High Fees
In fact, buying cryptocurrencies with cryptocurrencies is way cheaper than purchasing tokens with fiat money. The last option has certain fees, and they are often high. To buy Bitcoin with a card, you should be ready to face a fee in the shape of five percent. Check out the rate before buying.
The platform itself set up certain fees as well. An average charge is 5.5 percent on each transaction. Those who wish to buy plenty of altcoins often should better look for the site with the lower fees. At the same time, withdrawal fees are absent.

Limited Range of Crypto
You can only select from ten cryptocurrencies. Most of the rivals offer hundreds of coins, so it might be an issue.
Confirmation Process
It is enough to verify personal info and attach a couple of documents. Usually, it is enough to upload just your passport or national ID. It will not take more than two hours to get your account activated and start trading. It is possible to purchase no more than 15,000 dollars in tokens immediately after your registration. You will have to upload more documents that Coinmama requires. So, how should you get your coins from this service?
- Go right to the Coinmama website. Select and type in the number of coins that you wish to obtain.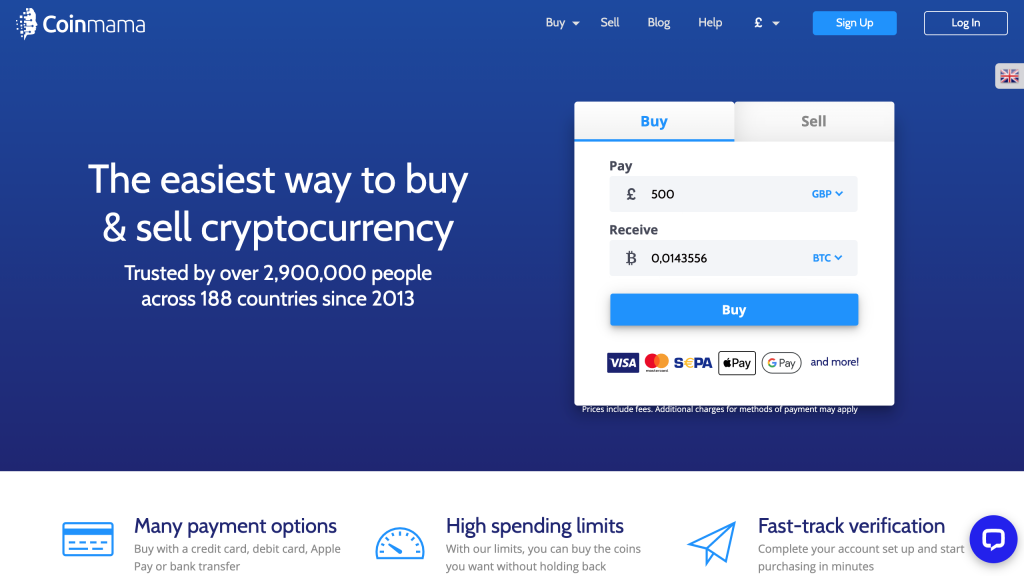 -
Push the Buy button. You can see that you can pay with Visa, MasterCard, ApplePay, SEPA, etc.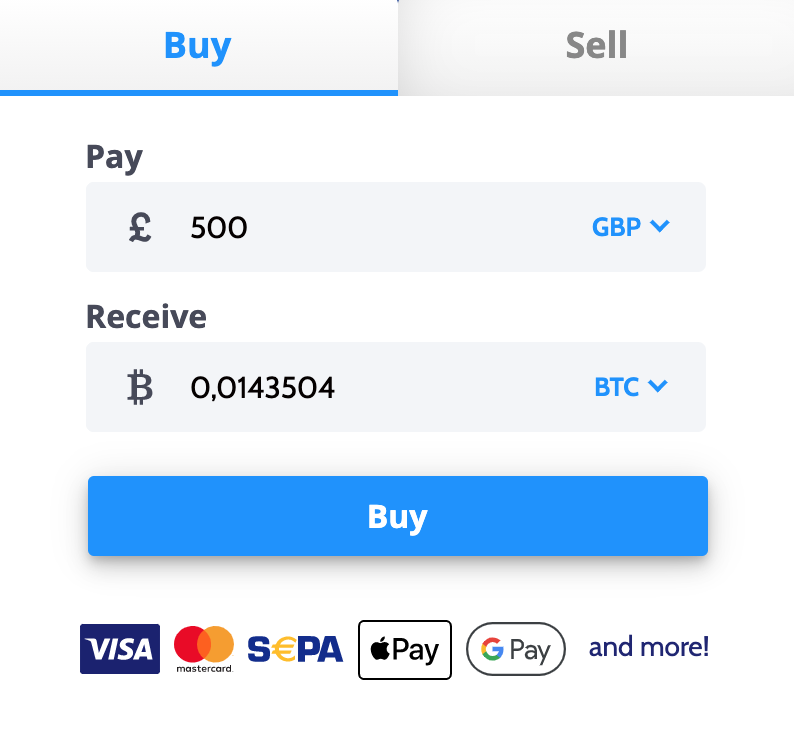 -
Type in your real name in full and decide on the passcode. See if your country is on the list.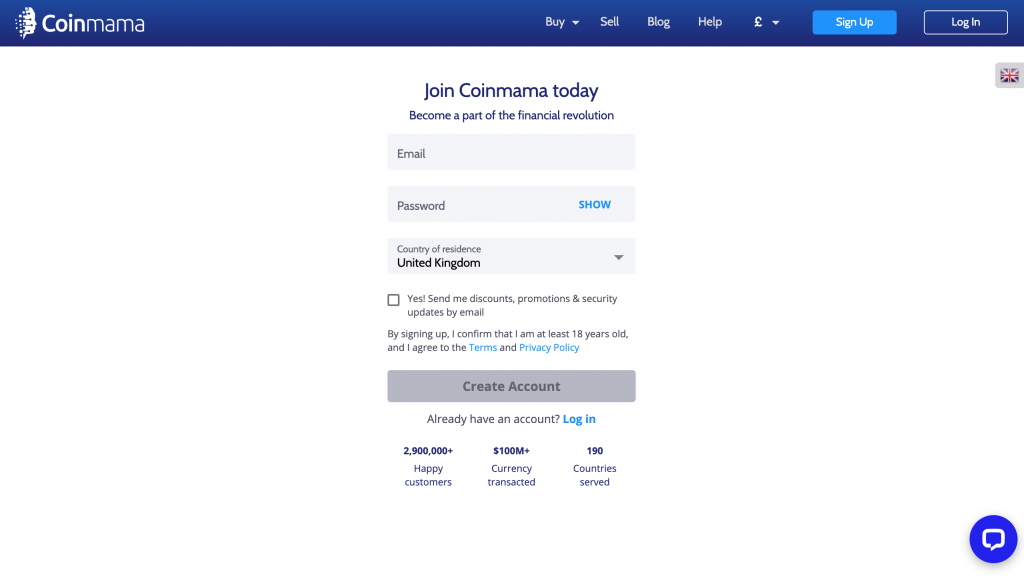 -
Verify the registration process by pushing the link in your inbox.
-
Sign in using the chosen password. Move to the Buy section again. Choose the amount and the crypto currency. See the final price that you'll have to pay. Verify the account if you have not done it before. Provide all the necessary information once again.
-
Type in the details of your identity documents. You can also use a driver's license if you have one.
-
Attach personal docs, depending on the amounts that you plan to buy. Usually, submitting the front and back of your ID is enough. Sometimes, a selfie is also required.
Coinmama will not take you to wait for more than ten minutes. They only expect to obtain high-quality pictures. Then, they send an email to you with the transaction verification. The coins will be sent to your wallet instantly.
Who Will Benefit from Using Coinmama?
As previously admitted, this service is good for beginners as it allows buying coins with fiat money and has the necessary explanations. First-time buyers will not find the site and system tricky. Even if you want to buy a less popular coin, the chances are that you will still need to trade it with another cryptocurrency such, and it is another reason to start your crypto journey on this platform. Always enter the code of the cryptocurrency of your interest to check whether it was recently added by Coinmama. After all, they plan to expand.
There are no comments at the moment, be the first