Read our Dukascopy review to find out if Ducascopy is really a safe broker. Learn what is hiding behind the perfect defense.
A Detailed Review on Dukascopy: Trustworthy or Not?
Dukascopy Bank was founded in 2004 by the natives of St. Petersburg Andrey and Veronica Duka. The main office is based in Geneva (Switzerland) and provides trading services in the international financial markets. The group of companies includes the Swiss Dukascopy Bank SA (licensed by the Swiss Financial Market Supervisory Authority (FINMA), the European company Dukascopy Europe IBS AS (licensed by the Latvian financial regulator - Financial and Capital Market Commission (FCMC), and the Japanese company Dukascopy Japan KK, which is regulated by the Agency Financial Services of Japan (JFSA). The group also includes the Latvian company SIA Dukascopy Payments, regulated by FCMC. It provides electronic payment services of different types.
As for the initial impression, The Dukascopy website has been translated into sixteen languages, including Russian and English as the primary ones. Finding the necessary information in all areas of the company's activities will not be difficult, but it will take time. In addition to a detailed description of trading conditions, the site has sections with various analytical services and even its own online television.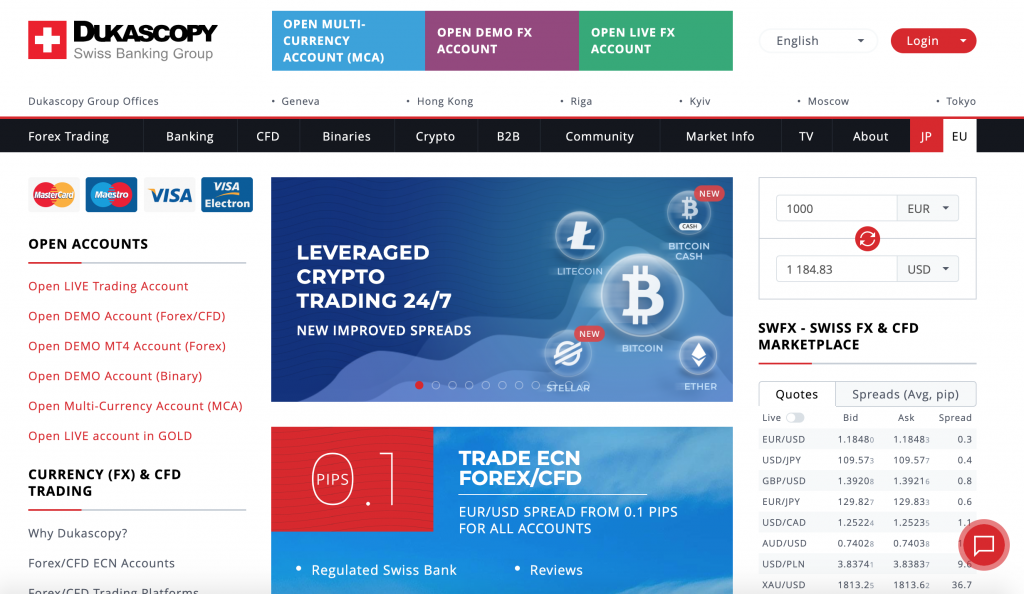 Signing Up at the Platform
To register your personal account with Dukascopy, you need to decide which company you want to open an account with. First of all, Swiss and European companies are of interest. The difference is in the provided leverage and the minimum deposit. To register, you must enter reliable personal and contact information in the special form to obtain further instructions to your email within seconds. You will need to print the received documents, sign each, and send them to Dukascopy by email.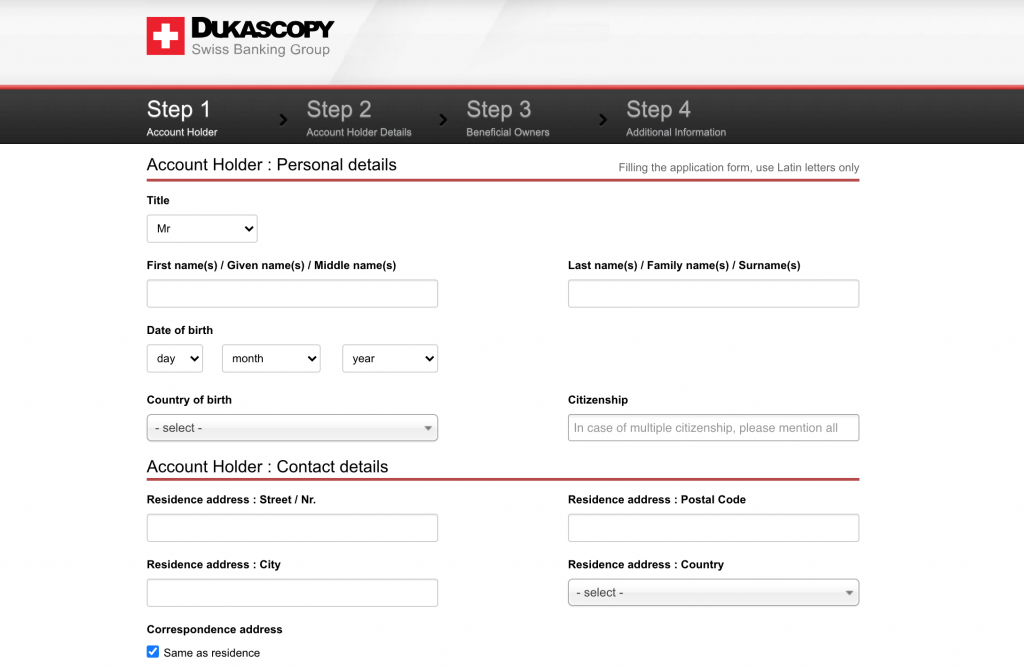 The verification process in the company is mandatory, meaning that without this stage, it is impossible to issue an application for withdrawal of funds. For successful and fast verification, you need to upload scans of documents confirming your identity and address of residence. In some cases, it is necessary to go through video identification by downloading the "Dukascopy Connect" application to your smartphone. After the approval of the documents, a trading account will be opened within 1-7 business days.
Deposit and Withdrawal Conditions
Dukascopy's deposit-withdrawal operations are possible by bank transfer or via debit/credit payment cards. Keep in mind that payments from third parties are not accepted. For crypto accounts, operations with bitcoins are possible. Dedicated clients and VIP members with deposits over $100,000 can count a bank guarantee. To get it, the client and the issuing bank will need to contact the account manager at Dukascopy for further discussion.
Accounts can be opened in the following base currencies: USD, CHF, EUR, GBP, AUD, CAD, CZK, DKK, HKD, HUF, ILS, JPY, MXN, NOK, NZD, PLN, RON, RUB, CNH, SEK, SGD , TRY, XAU, and ZAR. As for the assets available for trading, you can find:
- More than 40 currency pairs
- CFDs on oil, gas, and copper
- 5 agricultural commodities
- 18 stock indices
- A couple of types of bonds
In addition, the most liquid CFD stocks of the world's major financial markets are available for trading to Dukascopy clients. Dukascopy Bank offers binary options trading for 18 FX currency pairs on the SWFX marketplace and CFDs on BTC and ETH.
Dukascopy spreads are quite attractive. For example, the average spread for EUR/USD and GBP/USD is 0.3 pips and 0.94 pips, respectively. Please note that Dukascopy clients are charged a certain fee for trading operations. Their amount depends on the size of the deposit, capital, and trading volume.
Trading Platforms Included
Dukascopy clients can trade using the JForex 3 platform and the MT4 terminal. There are web versions of terminals for trading in a browser, as well as applications for Mac, Apple iOS and Android operating systems. We tested a demo account. The JForex 3 platform provided a stable connection to the server and instant opening of positions. For those who prefer trading robots, it is possible to provide access via API with the ability to trade through individual applications in the Java language.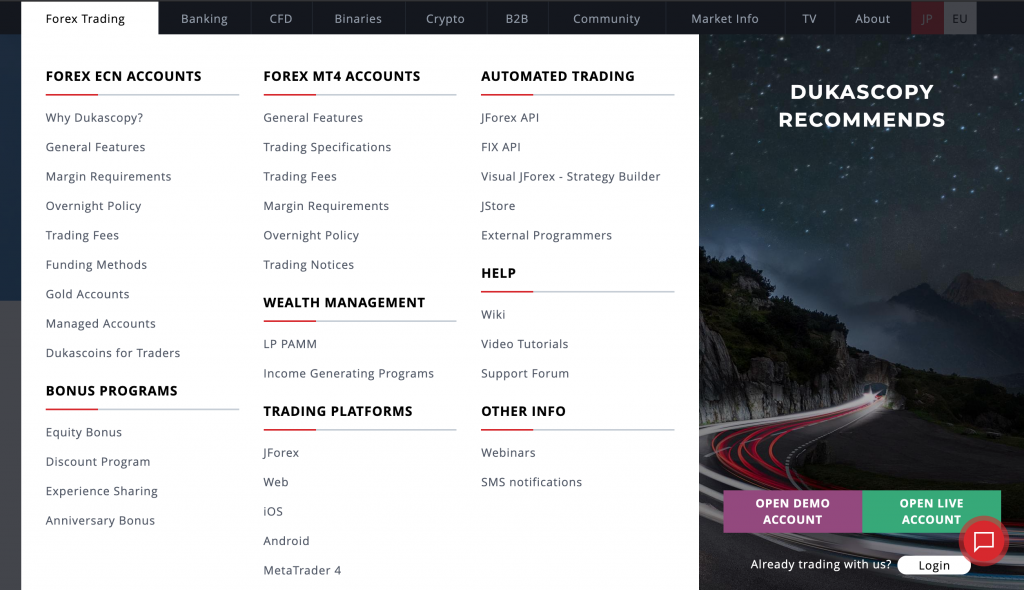 For managers, Dukascopy has an advanced PAMM account environment with greater risk control capabilities. At the same time, due to strict requirements from financial regulators to trustees, Dukascopy does not have a public rating of PAMM accounts.

Safety & Security Guarantees
All Dukascopy brand companies are regulated and must comply with stringent national regulatory requirements. Dukascopy Bank SA clients' deposits are insured by the Swiss government in the amount of no less than CHF 100,000 for each client. In Dukascopy Europe IBS AS, the client is guaranteed compensation in the amount of 90% of the lost value of financial instruments or losses caused by failure to perform investment services, but not more than 20,000 EUR for each client.
Customer Support
The customer of the company can contact the Dukascopy support service in the online chat, by phone (it is possible to order a call back), or via email. Technical support works around-the-clock, five days a week. The operators in the online chat answer quite quickly.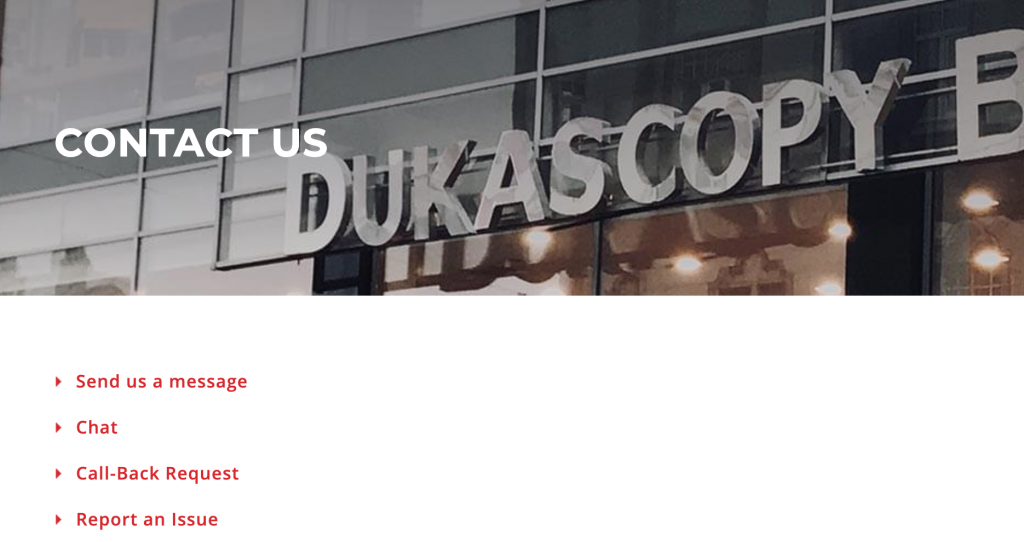 Our Verdict
Dukascopy companies are definitely trustworthy and risk-free for clients. Any threats to personal info are virtually eliminated. Before opening an account, you must understand that the broker is a participant in the Automatic Exchange of Tax Information (AEOI) and all your data will be transferred to the Swiss Federal Tax Administration (FTA). If your country is a member of the AEOI, FTA, the company, in turn, will transfer them to the tax authority of your country. If such transparency does not scare you and you want to have an account with a world-class company, Dukascopy is worth paying attention.
There are no comments at the moment, be the first