Will Guarda Wallet protect your money? Read about this wallet in details in our Guarda Wallet review!
Guarda Wallet Review: Is It Worth Trying?
Guarda is a multi-currency cryptocurrency wallet that offers online, desktop, and mobile wallets. Guarda can be synced with the Ledger hardware wallet for increased security. It does not store your private keys, and is very easy to use. The only problem is that Guarda has relatively high fees.
The Guarda cryptocurrency wallet was launched just a few years ago, in 2017. Since then, a group of highly skilled professionals have focused on creating blockchain-related products.

In terms of the Guarda wallet, the main goal was to create a digital wallet that could provide users with complete security, easy storage of cryptocurrencies, and simple asset management. Because the company values ​​your anonymity, it does not store backups of your files, private keys, or any other data that could threaten your security.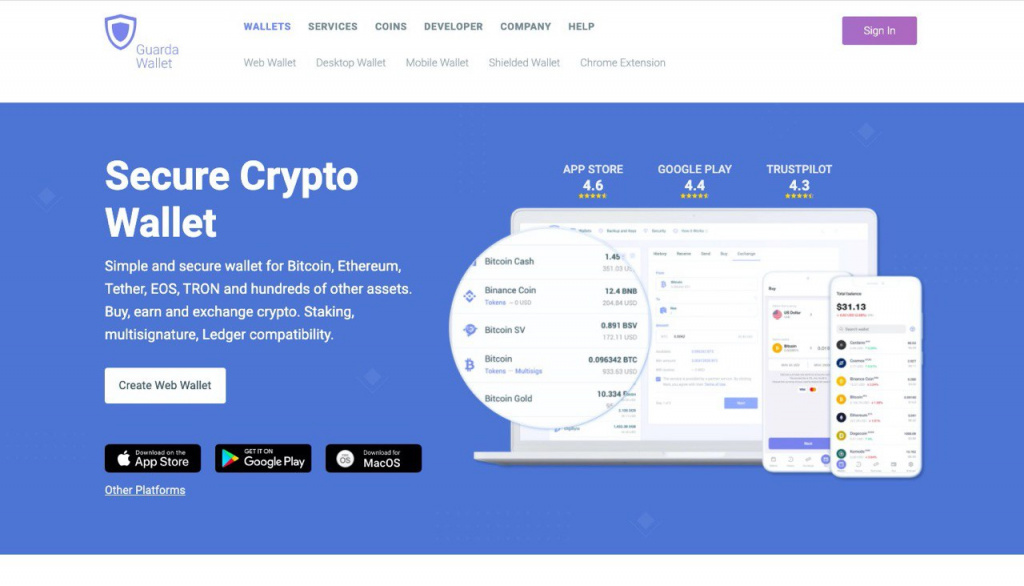 Even though it has only been a few years since the wallet was created, the company has come a long way. First, they started with a single-currency wallet. Then, they added a web version, versions for iOS and Android, created a token generator, and much more.
Since every feature matters when you are choosing a cryptocurrency wallet, make sure you are not missing out on anything.
Security and Credibility
If you ask what aspect is the most important when choosing a cryptocurrency wallet, any specialist (without exception) will answer you that it is security. While some are looking for easy-to-use wallets or wallets that support more coins, they forget that their assets can be stolen. Security matters more than variety.
Guarda is a multi-currency cryptocurrency wallet that has both online and software wallets. Of the two, experts would recommend choosing the Guarda software wallet, which should be relatively secure. However, it is not as reliable as the Ledger Nano S or Trezor hardware wallet.

Guarda Wallet Fees and Limits
This cryptocurrency exchange service offers unlimited money transfers. The fee is mixed. Depending on the market situation, the commission is constantly changing. Mostly, it is low within the framework of an ordinary user.
The cryptocurrency exchange is also subject to an unchanged commission. In Guarda Wallet, currency is often exchanged in two ways, Coinifi, with an approximate commission of 0.25-3%, and InDaCoin - 25%.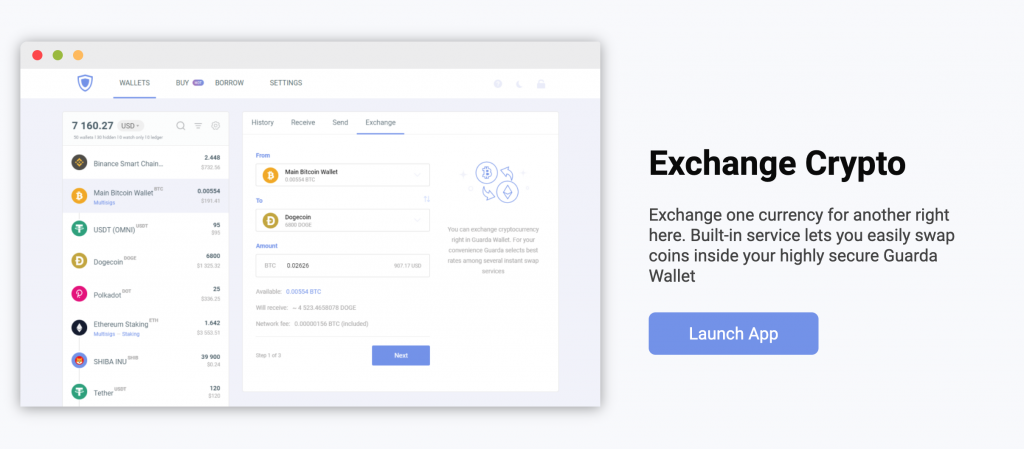 Is Guarda Wallet Secure?
The developers themselves assure that the wallet is completely safe and anonymous. It does not store any information about users and their accounts. This statement is true, and no data leaks have been detected. This wallet can definitely be called honest.
There are a few things you need to know about Guarda to understand how safe it is. First, the service complies with the cryptocurrency rules and takes responsibility. Online wallets are commonly targeted by cyber thieves. Thus, as a web wallet provider, Guarda had to create a secure structure to keep users' funds safe. Based on user reviews, Guarda has been a secure wallet over the years.
What's more, the support team is considered decent and responsive. This is an important detail as fast, high-quality customer support can play a significant role in:
- Restoring account access
- Preventing suspicious activity in a timely manner
- Protecting users' money in other ways
Yes, as with many other cryptocurrency platforms, there is speculation that the Guarda is a scam. Some people who claim they used Guarda accuse the platform of stealing their money. However, an analysis of such reports shows that there is no basis for these accusations. No evidence was presented. Moreover, there are no signs of malware on Guarda's side.
Most likely, negative reviews come from people who didn't quite understand how to use the service correctly, and for some reason lost access to their funds. Some crypto platform users tend to quickly blame the platforms publicly for fraud before getting proper help from customer support.
Another reason for criticism was the high exchange rates. The rates could have been checked by the users, so there is no point in blaming Guarda for that. It is the sole responsibility of the traders. The responses to negative reviews or comments on social media are usually quickly provided by members of the Guarda support team. The company seems to care about improving the user experience.
What security features does Guarda offer to its users? Critical actions such as logging in, withdrawing funds, and others are guarded with PIN codes, 2FA, and multisignature.

Deposit and Withdrawal of Funds
You can buy virtual currency in rubles, dollars, euros, or pounds. When making trades (selling and buying assets), the user is obliged to confirm the email address, the total volume of transactions, and the mobile phone number.
To purchase cryptocurrency, you need to go to the "Buy" section, select fiat and cryptocurrency, write down the amount, enter your email address, and click Next. Then, the trader needs to save the mobile phone number and make the payment.
In order to add cryptocurrency to the balance, the trader must:
- Log into personal account
- Select the desired cryptocurrency
- Look at the menu with the wallet address
- Send the selected coins
In addition, if you want to buy or sell cryptocurrency right now, you can use the HitBTC exchange. HitBTC is one of the 10 largest cryptocurrency exchanges in the world. The exchange offers high liquidity and does not impose KYC measures on its users. The wide variety of altcoins makes it a great place to exchange and trade currencies of any kind.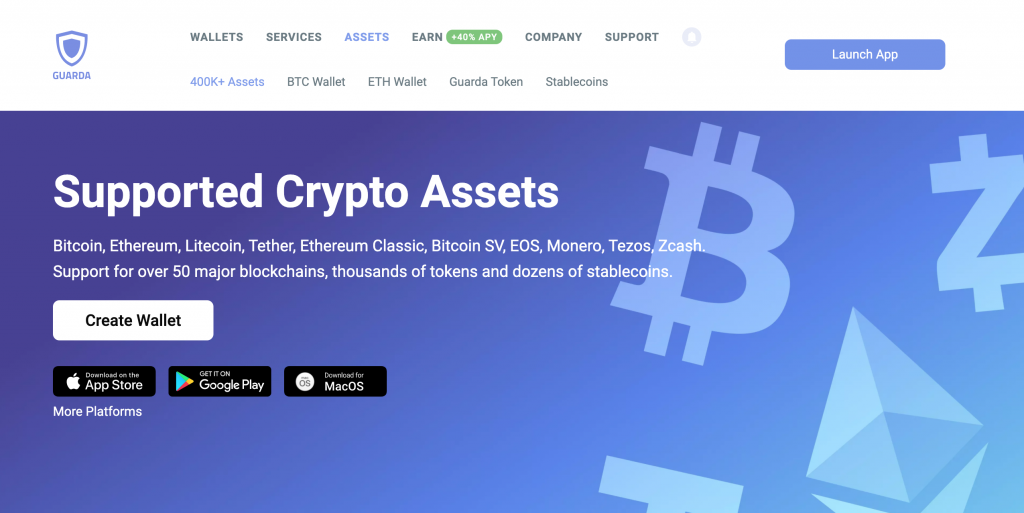 Conclusion
Undoubtedly, Guarda is a good wallet with great functionality, but sometimes freezes happen. Do not worry - that is fixable. First-class support is guaranteed by the company.
While the Guarda wallet will never be as secure as the reliable Ledger Nano S or Trezor hardware wallet, it still offers several attractive security features that should keep your assets safe.
If you like the fairly easy use of the Guarda cryptocurrency wallet, but want to improve your security, it's important to know that the Ledger hardware wallet can sync with it. This is highly recommended for those who store huge amounts of cryptocurrencies.
I hope you found this Guarda wallet review helpful and can now decide if this wallet is exactly what you are looking for.
There are no comments at the moment, be the first