Is Ledger Nano X best of all hardware wallet? You can read about it in our detailed review.
Ledger Nano X: Review from Crypto Experts
Today we will review another physical wallet for cryptocurrency - Ledger Nano X. For some reason, it is not as popular as Ledger Nano S due to the higher price. However, it has its advantages, and if you store some of your capital in digital money using a free web wallet, read this article until the end to find alternatives. This topic is very relevant now. The main features of Ledger Nano X are:
- Wireless connection. Implemented only on Nano X.
- Display size and physical buttons. The budget model Nano S has a smaller screen and touch-sensitive buttons.
- Ability to download multiple applications. If you work with a Ledger Nano S, you can only install 4-6 cryptocurrency apps at a time. If you are not a "heavy" trader it may not be necessary.
In December 2020, a new wave of the crypto boom took off. Digital coins have skyrocketed in value and now their owners should consider purchasing USB keys to work with the blockchain. Hackers are not asleep, and while the Ethereum token costs $200, not everyone considers a wallet with a couple of ETH as a worthy target for a pirate raid.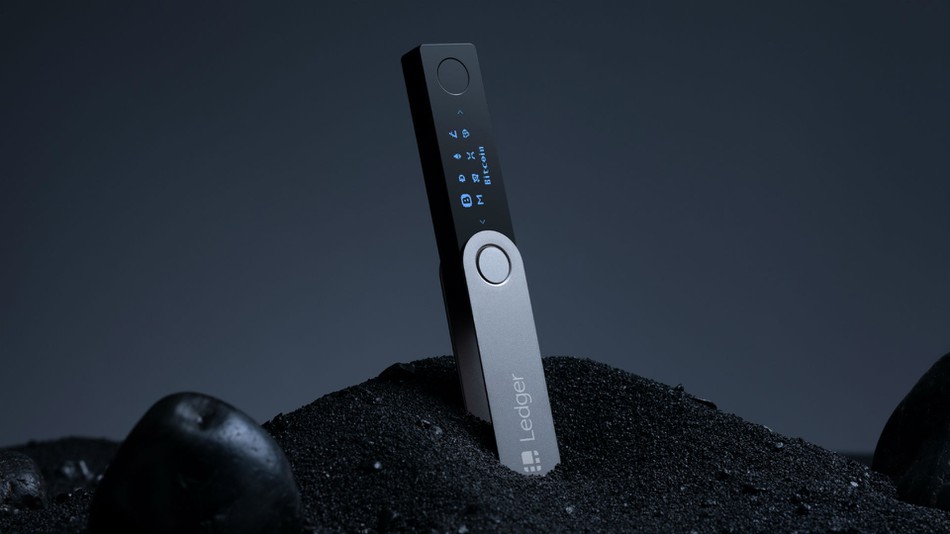 Features of Ledger Nano X
The Nano X hardware is similar to a regular USB flash drive. Its dimensions are 72 mm x 18.6 mm x 11.75 mm, and its weight is 34 g. The case is made of brushed stainless steel and high quality plastic. In addition, this physical cryptocurrency wallet has a built-in 100mAh battery that allows it to be operated via Bluetooth.
The device can be connected both to a regular PC and mobile gadgets based on Android (starting from version 7.0) or iOS (starting from version 9.0). Two large buttons on the front side and a fairly decent-sized display simplify financial transactions.
But the main trick is still the modernized architecture and software that guarantee the highest degree of security for your assets. The X-ledger is equipped with an improved secure element (ST33J2M0) and a dual-core wireless microcontroller (STM32WB55). The access PIN has been expanded to eight digits, while the SEED phrase consists of 12, 18, or 24 words.
Packaging
This e-wallet is checked for validity by scanning the built-in security code. Therefore, if you decide to buy Ledger Nano X and notice that it has no protective holograms, remember that manufacturers do not use this marking as it is quite easy to counterfeit. In addition to the device itself, the box contains:
- Instruction;
- High-quality USB cable;
- Space for storing seed phrases;
- Leather belt.
As a bonus, there are several stickers included.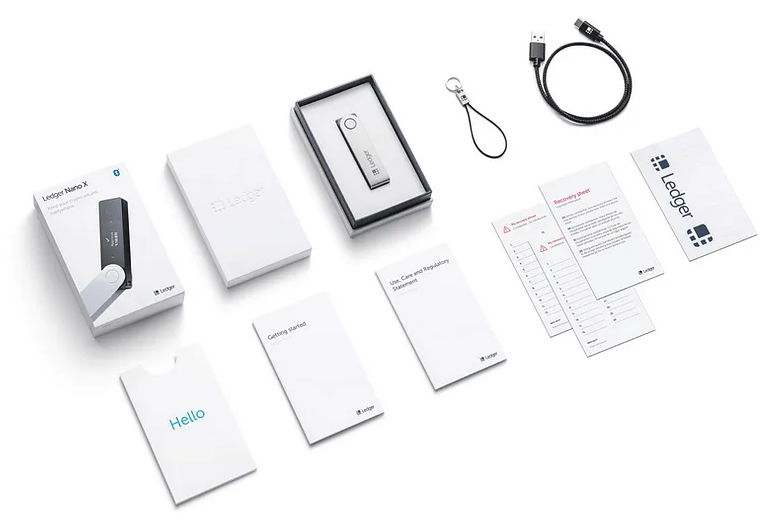 Never purchase hardware wallets for cryptocurrency hand-held or from "leftist" vendors. Most likely, you will get a fake. The best way is to follow the link https://shop.ledger.com/pages/ledger-nano-x to the official website and order there.


Compatibility
The list of supported Ledger Nano X crypto coins is on the manufacturer's official website. Check out the Crypto Assets section. There are quite a few of them, more than 1000.
True, some of them are incompatible with the Ledger Live application and, in order to carry out transactions, you need to synchronize the hardware with the official coin wallet. It does not lower the level of security in any way. X ledger works with all top cryptocurrencies and promising tokens. The list is regularly updated.
Multilingual Ledger Nano X manual is included in the package. We will only briefly list the main points.
For Ledger Nano X, setup begins by checking that the product you received matches the checklist. The company logo will pop up: "Welcome to Ledger Nano X - press right to continue". Press right and start creating your unique crypto wallet.
After connecting, the program will offer two options to choose from: generating a new wallet or restoring an existing wallet. We select Set Up New Device and to confirm, simultaneously press both physical buttons on the device.
Now you need to create a PIN code. The digits are highlighted on the screen. Select the desired one by moving left and right along the line using the buttons and press both buttons so that the program will memorize it. The length of the PIN code is 4-8 characters. Do not forget to write it down or memorize in advance.
Next, you need to save the recovery phrase. Be sure to write it down so that you won't lose it. Losing a SEED phrase means losing money. They will be forever frozen in the blockchain and you can only see the amount by entering the public address in Block Explorer.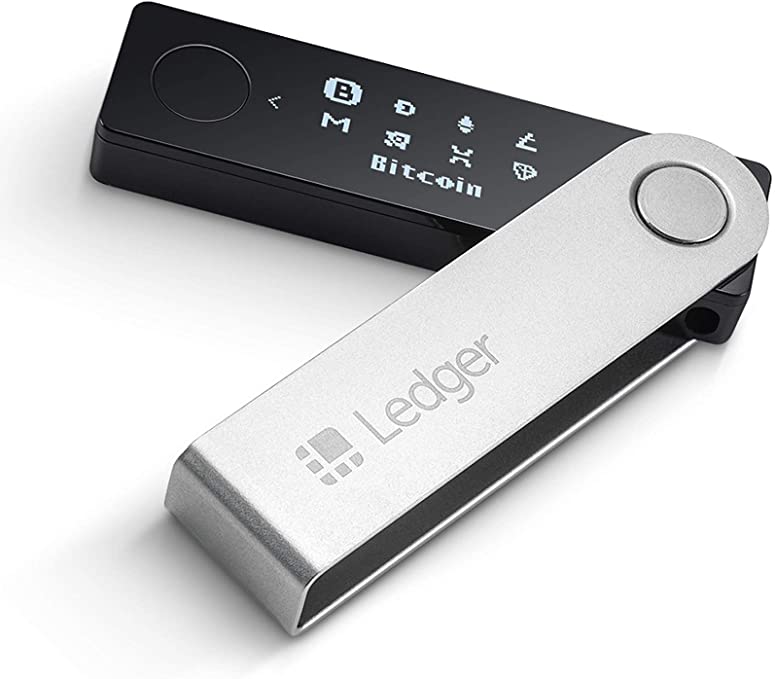 Safety & Security
As mentioned above, the original ledger is authenticated when connecting to Ledger Live using a built-in cryptographic key (not to be confused with a PIN!).
All operations are carried out in a special ledger live application or a compatible crypto wallet and are confirmed by pushing buttons on the device. Ledger Live can be installed both on a stationary PC and smartphone. Synchronization is carried out via USB cable or Bluetooth. The hardware is designed to prevent hackers from accessing the private keys of supported cryptocurrencies. Even if a hacker controls your computer or mobile device, this does not mean that he controls your ledger.
Working with a hardware safe is similar to using the MEW wallet via the MEW Connect smartphone app. You enter the code on your computer and confirm on your mobile. However, a smartphone is vulnerable to hackers. When using Ledger Nano X, the transfer is generated and signed in a secure environment. It is impossible to change the address or steal the private key.


How to Restore a Wallet After a Loss
If the wallet is stolen and you do not know the PIN code, it is impossible to reset a recovery phrase or private key. Your money will not be lost anywhere, and you can get access to it by restoring your account on a new device using the SEED phrase.
Ledger Nano X will take a few minutes to update, as long as you have the magic words. It should be noted that the BIP39 ledger mnemonic is also suitable for hardware from other manufacturers or ordinary crypto wallets. So, if the company suddenly goes bankrupt (and this is unlikely), the money will not be lost.


Conclusion
It is your own business which model of hardware ledger wallet you buy. This device is worth purchasing. To get Ledger Nano X, you only need about 0.15 ETH. Digital assets are growing in value and, even if the exchange rate changes, it will be followed by a new takeoff. In order not to lose your coins, you need a high level of security. Ledger Nano X is the safe device.
There are no comments at the moment, be the first