In our Robinhood review you will read details about why Robinhood Wallet is a special purse !
RobinHood for Storing Cryptocurrencies Review
Robinhood is a zero-commission American broker. This financial and technology startup was founded in 2014 and is a member of the American regulatory body FINRA. It provides maximum investor protection up to $500,000, including a cash limit of $250,000.
Robinhood allows you to trade US stocks with no fees and withdrawal commission. At the moment, Robinhood is not listed on the stock exchanges and does not have a parent company.
In addition, the company provides a user-friendly mobile trading platform and web interface. The process of opening an account is smooth, completely digital, and very fast.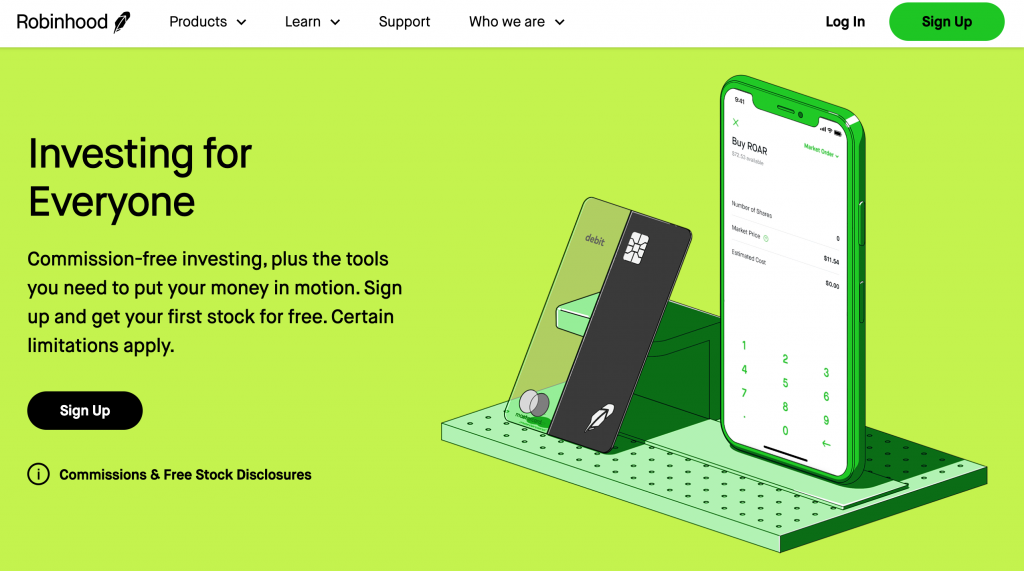 Basic Features
Robinhood is designed with newbies in mind. Thus, it excludes any trading fees and offers a simple registration process and an intuitive interface. The absence of a minimum deposit means that newbies can open an account with no upfront investment and purchase fractional shares for as low as $1 per unit.
The app is simple and allows users to immediately start buying and trading stocks, ETFs, and cryptocurrencies without the minimum required deposit like many other investment platforms do. The app is directly linked to the user's bank account, making it easy for them to quickly start buying securities of interest. The layout of the app is simple and intuitive, making it as easy for those who are new to business to use as possible.
The platform does not provide for customization of their charts or information, and there are no research centers or other sources of information on the relevant trading companies. However, it makes sense as Robinhood targets a broad base of first-time clients, aiming to reach a wide audience.
The app also offers a premium subscription option called Robinhood Gold for more experienced users. The advanced features such as long-term trading and the ability to trade on margin are available for gurus. This service requires a minimum account balance of $2,000 and starts at $6 per month.
Robinhood offers unlimited, commission-free trades on the following investment products:
- Cryptocurrency. Buy and sell 17 different cryptocurrencies at any time of the day, including Bitcoin, Litecoin, and Ethereum.
- Shares and funds. Browse over 5,000 stocks and ETFs available, including fractional stocks for as low as $1.
- Options. Learn to trade options without contract fees.
Minimum balance. Robinhood doesn't have one, which means investors can get started right away. Of course, in order to invest, you will need enough funds to buy the asset you are interested in.
High Return Savings. In December 2019, Robinhood began offering a cash management account that currently brings in 0.30%. The account comes with a debit card and free cash withdrawals from over 75,000 ATMs.
Robinhood uses instant verification with many major banks, eliminating the need to report micro-deposits to an account to verify information.
Optimized interface. This can be a negative point, as the service doesn't offer all the bells and whistles of a typical online broker. Investors who know what they want for sure, the Robinhood platform is more than enough to get things done quickly. It supports market orders, limit orders, stop-limit orders, and stop orders. Sure, the platform has its drawbacks:
- Support. Customer assistance is slow and requests can only be sent by email. In addition, the product portfolio is mainly limited to the US market.
- Only one platform account option. In terms of investing, Robinhood only supports individual taxable accounts (often referred to as brokerage accounts).
- For most investors, investing through a taxable brokerage account should only happen after they have deposited 10%-15% of their retirement income into a tax-free account such as a 401 (k) or IRA.
Recommended for novice traders and long-term investors targeting the US stock market.
Fees
Robinhood has been trading commission-free since its launch in 2015. At the time, the lack of fees was a pretty big deal, giving Robinhood a solid competitive advantage. There are also no inactivity or withdrawal fees. Robinhood's Zero Commission provides significant savings when trading US stocks. In addition, there are no extra fees for trading options and cryptocurrencies.
On the other hand, Robinhood charges very high commissions for trading stocks outside of the United States, and the funding rate is also uncompetitive. Robinhood charges the highest commission to date for trading European stocks at $50.
How to Get Started with Robinhood
As with any exchange platform, in order to get started, you must go through the registration process. To do this, in the upper right corner, click on the "Register" button.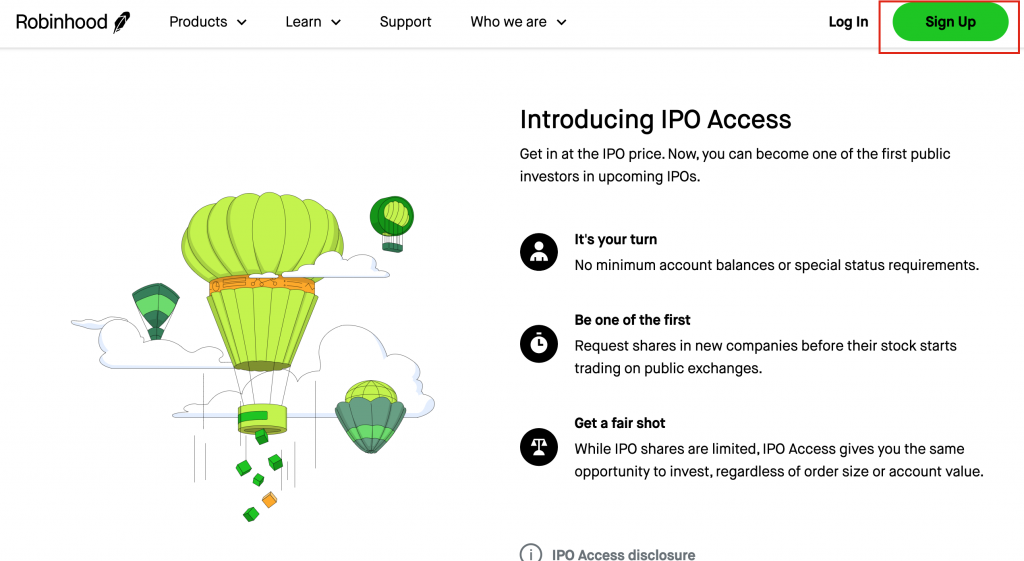 A registration window will open in front of you. Enter basic information about yourself: name, surname, email address, and password (at least 10 characters). After filling out the form, click "Continue".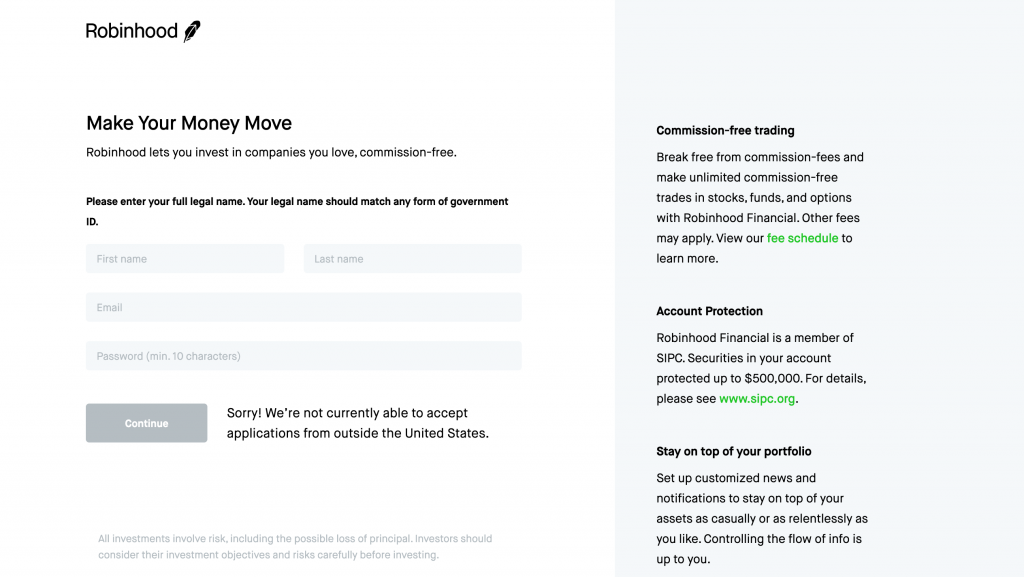 In the next window, you will need to enter your phone number and residential address (street, house number, city, state and zip code). That's all. You are now ready to go with Robinhood!

How to Use Robinhood
The platform allows you to track and buy many different cryptocurrencies, including many of the most popular digital assets. However, since Bitcoin and Ethereum are the most popular and widely used currencies available at the moment, the platform offers an opportunity for the average investor to enter the world of digital currencies.
Since the interface is quite easy to navigate, it is not a problem even for the most novice cryptocurrency users to use the service. What really sets Robinhood apart is its ability to provide the solutions you need in an easy-to-use way, and this remains one of its unique benefits for end-users. Here you can buy and sell stocks, invest, buy cryptocurrencies, trade, follow trends, and more. The Robinhood platform currently supports the following cryptos:
- Bitcoin (BTC)
- Bitcoin Cash (BCH)
- Bitcoin SV (BSV)
- Dogecoin (DOGE)
- Ethereum (ETH)
- Ethereum Classic (ETC)
- Litecoin (LTC)


Customer Support Quality
Customer support is Robinhood's weak point. You can only send inquiries via email, and there are no phone or live chat support services. Currently, users can contact the team via email [email protected] or through social media such as Twitter or Facebook.
The main complaint that most negative reviews have in common is that users receive monosyllabic, incomplete responses that do not reveal the essence of the customer's problem.
However, the customer service reviews are mostly positive. Many customer reviews to date refer to other services offered by the company instead of cryptocurrency trading.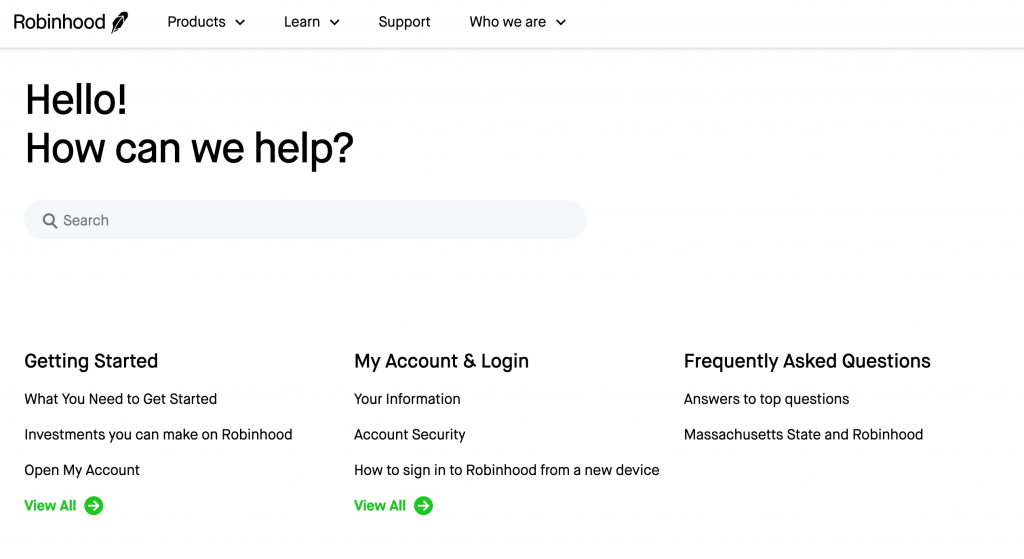 Is Robinhood Safe?
Robinhood consists of two main legal entities, Robinhood Financial LLC and Robinhood Crypto LLC. The first one allows trading stocks and options, while the second is for cryptocurrency trading.
Robinhood Financial LLC is a member of the Financial Industry Regulatory Authority and is subject to the US SIPC Investor Protection Scheme. The SIPC security limit is $500,000, including a cash limit of $250,000.
The second division, Robinhood Crypto LLC, is not a member of FINRA or SIPC. This means that cryptocurrency trading is not protected by any investor protection schemes.
Overall, Robinhood has never suffered from massive hacking of its services. However, users reported hacking of individual accounts on various social networks. If you choose to use Robinhood Crypto, there are several different ways to improve the security of your account. For example, you can enable Touch ID or Face ID in the mobile app.

Final Thoughts
Robinhood is not the first company to allow cryptocurrency exchange and investment with other companies offering similar services. However, the fact that it is easy to use and free of any commissions or transaction fees makes the company rather attractive for traders. Robinhood has proven to be successful in its strategy.
With that said, to be successful in the long run, you need to be more flexible. If you are attracted to the opportunity to trade US stocks without commission and you need a convenient platform, Robinhood is the best choice.
There are no comments at the moment, be the first