Can you trust your Wirex money? Read about it in our detailed Wirex review
Wirex Review 2021 for Crypto Traders

Wirex is a hybrid of a cryptocurrency exchange and a standard exchange. You will not see indicators, oscillators, and other tools on the platform, but the interest for using the system and processing with it is obvious as the operator earns mainly on spreads.
Should you trust this service provider? Is Wirex a scam or an honest operator? Let's find out.
Why Wirex?
Wirex is, in fact, a simplified version of the exchange. The major difference from other similar platforms is that you do not need to build complex analytical systems, use technical or financial tools and generally delve into topics related to trading (cryptocurrency trading). At the same time, the company, performing brokerage functions, declares that it makes money on the difference in exchange rates. You simply choose the terms of transactions that are favorable for you, without worrying about deductions, only the sale/purchase of currency that is not supported by your card and is subject to 3% of the transaction over the course.
The advantages of the system include:
- Large selection of fiat and cryptographic units.
- The presence of its own tokenized currency - WXT.
- The reward system is cashback for making deals with WXT.
- Two-factor transaction verification (2FA) - confirmation of the rights to enter the account via SMS before each session.
Wirex works only on mobile devices (smartphones, tablets), meaning that you cannot launch the application from a computer. At the same time, it is somewhat problematic to understand the conditions: they are set out in some detail in the FAQ.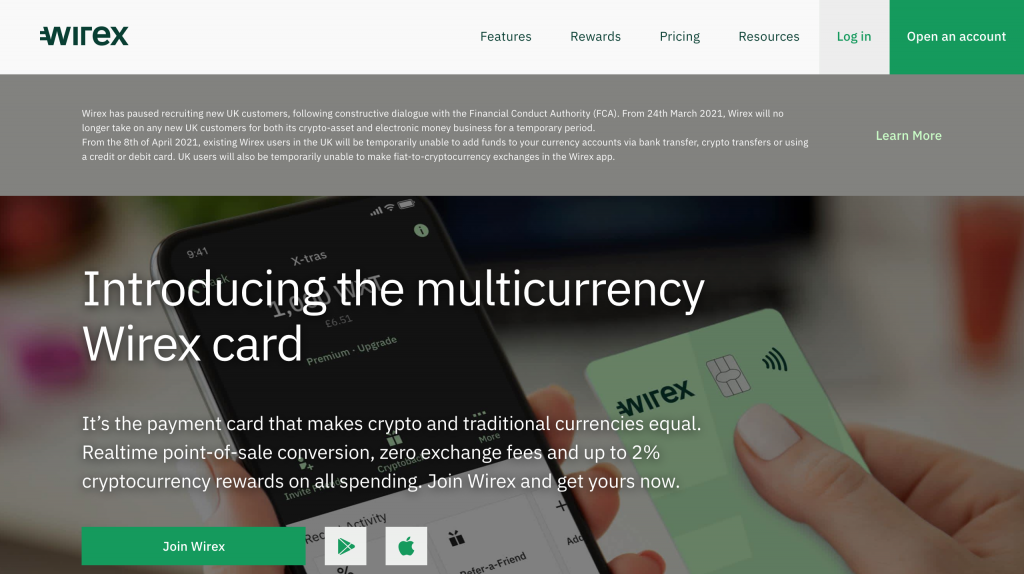 How to Buy Cryptocurrency on the Wirexapp.com Platform?
To work with the Wirex application, you first need to register, indicating the country of residence, email, setting up a password and agreeing to the terms of use. The wirexapp.com site itself has only two language versions (English and Chinese), while several dozen languages ​​are available upon registration.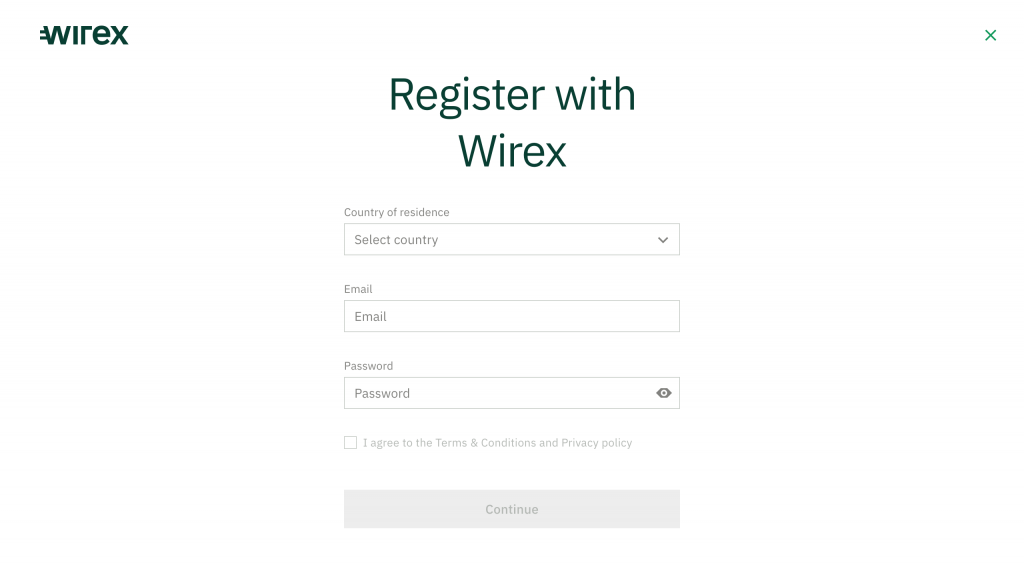 An email with a confirmation link will be sent to the specified email address.
Then, you will need to fill out a short form, providing your exact address of residence. Indicate personal information about yourself: name, surname, date of birth, and nationality. Everything is filled in in Latin.
As the last step, you will be asked to write and confirm your contact phone number (you will receive an SMS message with a 7-digit code).
Do not forget to verify your phone number!
Now, install the Wirex mobile application, and you can work with it. Select the currency that you plan to buy and/or sell, specify its amount, and provide payment information like the wallet key, account/card number, etc.

How to Verify Your Account
At the registration stage, we did not meet the obligatory verification procedure. However, among the terms of use, an AML policy is mentioned, according to which you may be required to confirm your identity, address (with a receipt of no older than 6 months), and any other documents required for verification. In case of your refusal/inability to provide them, the account will be blocked or frozen for a while.


Cryptocurrency Purchase Conditions
The service can only be used by adult users living in countries from the list of allowed. Prohibited territories include Azerbaijan, Bahamas, Belarus, Botswana, Burundi, CAR, China, Congo, Cuba, Egypt, Eritrea, Ethiopia, Ghana, Guinea, Haiti, Iran, Iraq, Japan, DPRK, Kosovo, Lebanon, Libya, Masao, Myanmar, Pakistan, Palestine, Saudi Arabia, Sierra Leone, Somalia, Sudan, Sri Lanka, Syrian Arab Republic, Trinidad and Tobago, Tunisia, Uganda, USA, Vanuatu, Venezuela, Yemen and Zimbabwe. Besides, for residents of certain regions (including the Russian Federation), the option of replenishing the account with a card is not supported.
- The period of the transaction, in accordance with clause 9.3 of the Terms and Conditions (user agreement) is from 24 to 120 hours from the moment of confirmation of the application. All operations are carried out in the administrative panel of your personal account. You can use a Wirex virtual card (also issued in your account) or the following methods:
- International bank transfer SEPA
- SWIFT
- Crypto wallet
- Faster Payments service (for the UK)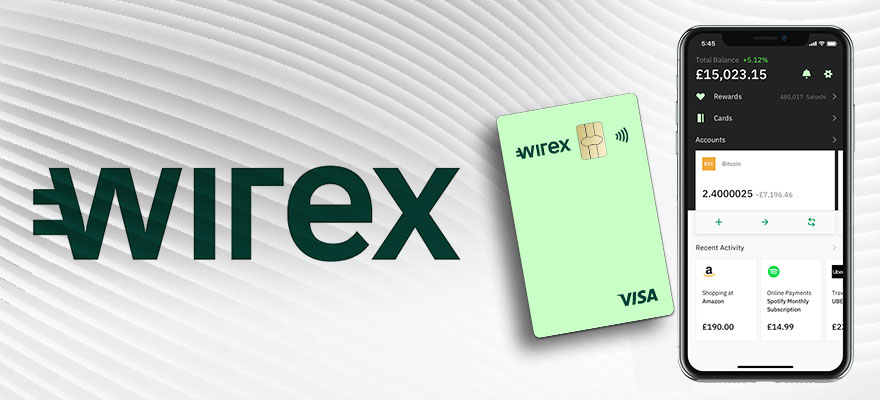 Deposit and Withdrawal Limits
Limitations for replenishment and withdrawal are a complex system and depend on a large number of factors, such as type of unit, method of replenishment, and user status. Yet the FAQ has some summary tables that you can easily navigate. According to them, the maximum number of bitcoins to be exchanged within one transaction is 0.1 BTC, for litecoins the bar is set at 4000 LTC, for ripples - 6000 XRP, for ether - 9000 ETH, etc.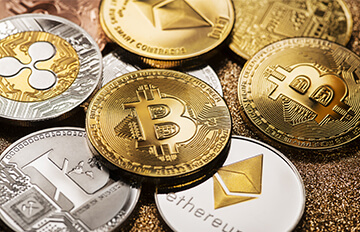 Wirex Fees
The owners of the service earn on the spread (the difference between the buying and selling prices of currency). This is the commission, but you will not know its amount. It looks like there is no interest for using the system.
The exception is confirmation for transactions with a crypto wallet and a Wirex native card (monthly account maintenance is paid in the amount of 101.5 EUR).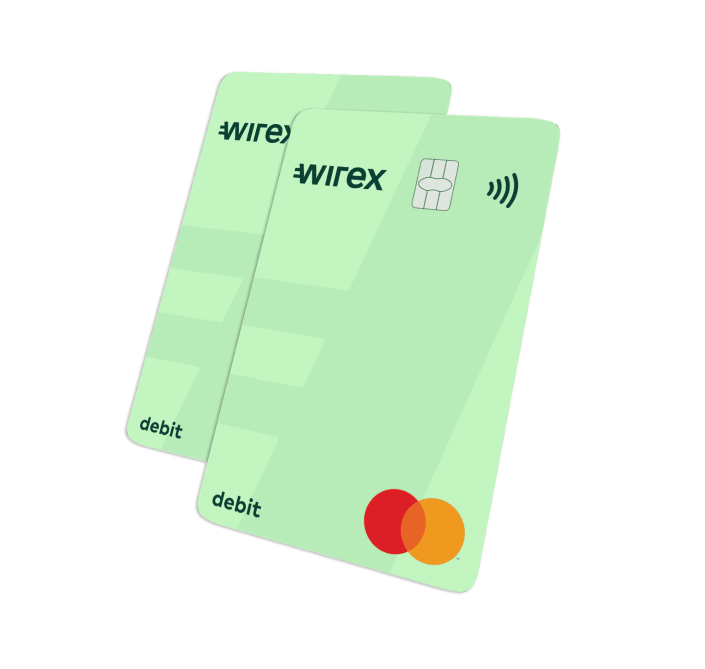 Referral Program
The referral program assumes that you receive a reward for transactions made by users who joined the platform using your unique (referral) link. They are called referrals. The link is stored in your personal account after it is generated automatically by the time you complete your registration. You are free to post it on any legal resource that does not violate the rights of others (for example, spam mailings are prohibited). Share the link on your personal website, blog, social network page, forum thread or topic, etc. For each referral's transaction exceeding 100 USD and completed within 60 days after his registration, you earn a fixed reward in the amount of $5.
Complaints About Wirex
There are quite a few complaints about Wirex not only in specialized forums, but also in app stores (Google Play Market and App Store). Users are dissatisfied with the deadlines (speed of transactions), the difficulties with confirmation, and unexpected blockages.
Regulation Wirex Limited
Before uploading funds to a particular service, it always makes sense to check its status, considering that not every cryptocurrency exchange is licensed, and the issue of their regulation in many countries remains open. Let's see what the Wirex owners offer us in this vein.
Depending on the region where the system operates, the licenses vary by various regulators:
- Canada - Wirex Canada (regulated by FINTRAC, license number M18946201).
- USA - Wirex USA Inc. (regulated by FinCEN, registration number 31000160311100).
- The rest of the countries - Wirex Limited (regulated by FCA, license number 902025).


Is Wirex a Scam? Verdict
Wirex, despite a good licensing base (3 licenses, each for its own jurisdiction), does not look like a highly reliable service. The first thing you notice when you visit the wirexapp.com website is the lack of clearly structured information. You need to guess even after going to the "Help" section, through which users usually contact the support. It is not that easy to find a selection of articles with the necessary answers on your own. At the same time, it's impossible to call this platform a complete scam as it has some advantages specified above.
There are no comments at the moment, be the first