Is Coinsbit safe or not? Read more in our Coinsbit review!
Coinsbit Exchange Review: Where to Buy Crypto and Other Assets
First impression: Coinsbit took first impressions seriously. The site of the exchange is unlikely to leave visitors interested in cryptocurrency trading indifferent.
Coinsbit calls itself not just an exchange, but an "innovative cryptocurrency trading ecosystem". Its site is designed to justify this statement.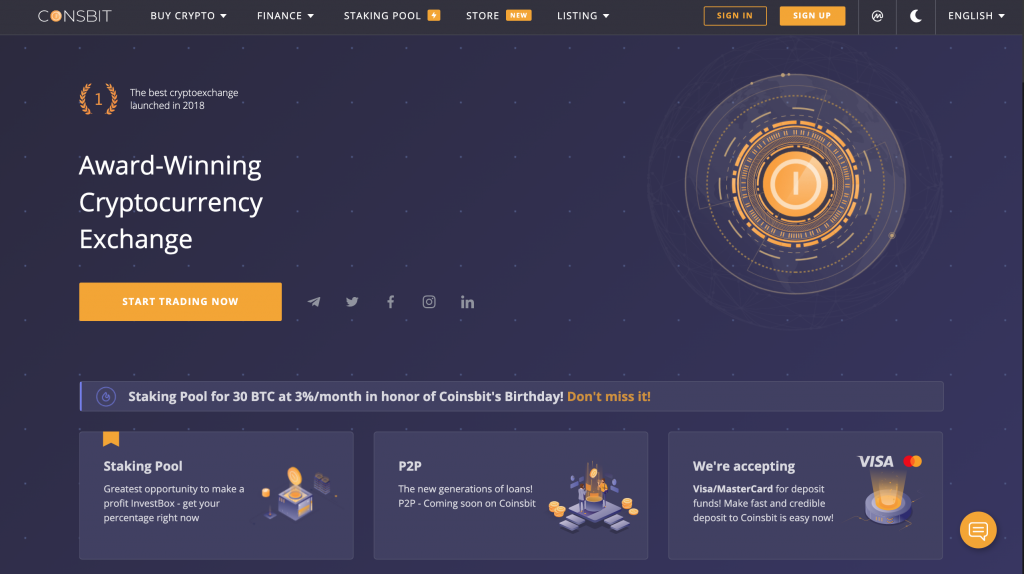 A website visitor immediately learns that on Coinsbit he can do more than exchange one cryptocurrency for another. Here he is offered a variety of possibilities:
- Buy and sell cryptocurrencies for fiat currencies;
- Enter/Withdraw fiat currencies using bank cards;
- Carry out over-the-counter exchange (OTC) with other traders;
- Buy goods for cryptocurrency from Amazon; Ebay, AliExpress, and Alibaba, bypassing the conversion to fiat;
- Invest cryptocurrencies in staking pools to generate passive income.
All this is complemented by claims of high performance and links to well-known media materials that mention Coinsbit. All links are active and everything can be checked. Indeed, even the Forbes website has an article about IEOs, which were held on this exchange.
It is also captivating that trading can be conducted both on a centralized trading platform and in a decentralized mode. In the first case, a deposit in fiat currency or cryptocurrency is required for trading; in the second, it is enough to connect your MetaMask wallet to the exchange (MetaMask - decentralized trading through other wallets is not supported), and you can make exchanges while maintaining full control over your assets.
Registration
We also encounter incomplete translation of the site during registration. Some words in notifications remain in English, and some sentences appear inconsistent.
However, this does not affect the registration process itself. Registration is as simple as possible. To complete it, you just need to specify an email address, come up with a password and follow the link from the email.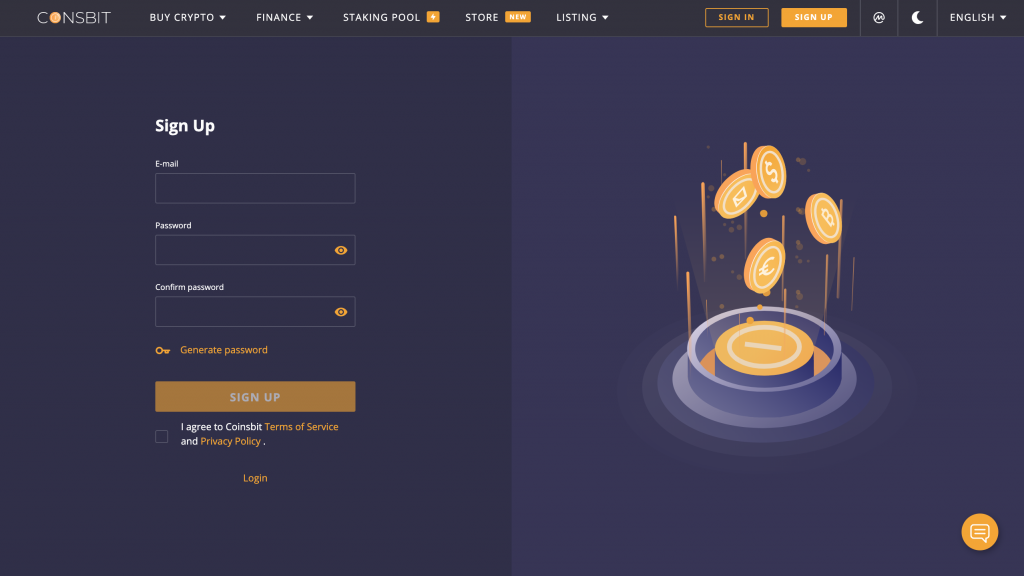 Trading Conditions and Fees
For many traders, the most important thing in trading conditions is the size of the commission. It is not as easy to recognize it on Coinsbit as on other exchanges. On the one hand, there is a separate page with all fees on the exchange website. It is clearly stated that the fee for a transaction is 0.2%. On the other hand, on the "FAQ" page, we see a clarification:
"For orders of a certain type, the transaction fee may differ from the one published on the Fees page. Transaction fees are displayed prior to order execution. "
In practice, the fee may differ even for transactions with the same trading pairs. For example, when buying ether for EUR, a commission of 0.2% is charged, but when selling ether for EUR, there is no fee. At the same time, when buying PlatinCoin for euros, no commission is charged, but when selling PlatinCoin for euros, the fee is 15%.
The commission for transactions is always charged in the quoted currency. For example, for trades on the BTC/USD trading pair, the commission is always charged in dollars. Therefore, when an order to buy 1 bitcoin at a price of $25,000 is triggered, you will receive exactly one bitcoin on your account, and spend a little more than $25,000 on one bitcoin. The exact amount of the transaction in the quote currency is displayed in a special column when placing a limit order.

Trading Pairs and Liquidity
As of the end of December 2020, there are over 160 trading pairs on Coinsbit. Most of them are pairs with cryptocurrencies not listed on major exchanges. Such cryptocurrencies are traded either exclusively on Coinsbit or in addition to it on P2PB2B and WhiteBit platforms. The volume of trading on these three exchanges is relatively small, which means that most coins may be illiquid and should be traded with caution.
It would be foolish to expect exchange market makers to be able to maintain efficient markets for so many trading instruments. For some trading pairs in the order book, we see only one sell order and one buy order. For a number of coins, there are no purchase orders at all: it will be possible to buy such coins, but it will not be easy for someone to sell them later.
Despite the low liquidity in the order book, Coinsbit claims high trading activity. For instruments for which there is only one sell order and not a single buy order in the order book, deals can be stably executed every minute.

Trading Interface

The exchange website offers two types of trading interface.
"Classic trading" - this version of the interface can be familiar to traders. There is a chart with TradingView instruments, the order book, and the history of transactions.
"Advanced Trading" contains a candlestick chart with a volume chart, without any other indicators. The order book and trade history are located in the same widget and can only be tracked on a wide screen at the same time. There are no usual trader's tools, but there is a button with a lightning icon, when you click on it and send the base currency of the traded pair to the pool for staking.
It seems that Coinsbit calls this strategy advanced trading. One can buy cryptocurrency and send it to the staking pool for passive income. This is what the "advanced" version of the trading interface is focused on. For everything else, the classic interface is more convenient.



Coinsbit "Classic Trading" Interface
The Coinsbit mobile application does not provide access to any special interface option. It simply opens the coinsbit.io website in the built-in browser of the mobile device. Instead of installing a mobile application, you can simply put a bookmark on the home screen with the address of the exchange website. There won't be any difference.

Safety and Security
The media have never made any statements about the hacking of the exchange or the loss of assets from this platform. One gets the impression that the exchange corresponds to all regulations and provides the best protection practices.
It seems that the greatest danger for Coinsbit clients is a deposit before verification. If you deposit money to an unverified account, and then fail to pass verification, withdrawal of funds according to the rules of the exchange will not be available to you. The possibility of withdrawing funds appears only after the account is verified.
Additional difficulties in resolving possible disputes are expained by the fact that the Coinsbit exchange is registered in the Seychelles, and all disputes in accordance with clause XIX.02 of the user agreement are governed by the rules of the London International Arbitration Court, according to which filing a request for arbitration will cost £ 1,750. and every hour of the arbitrator's work - £ 450.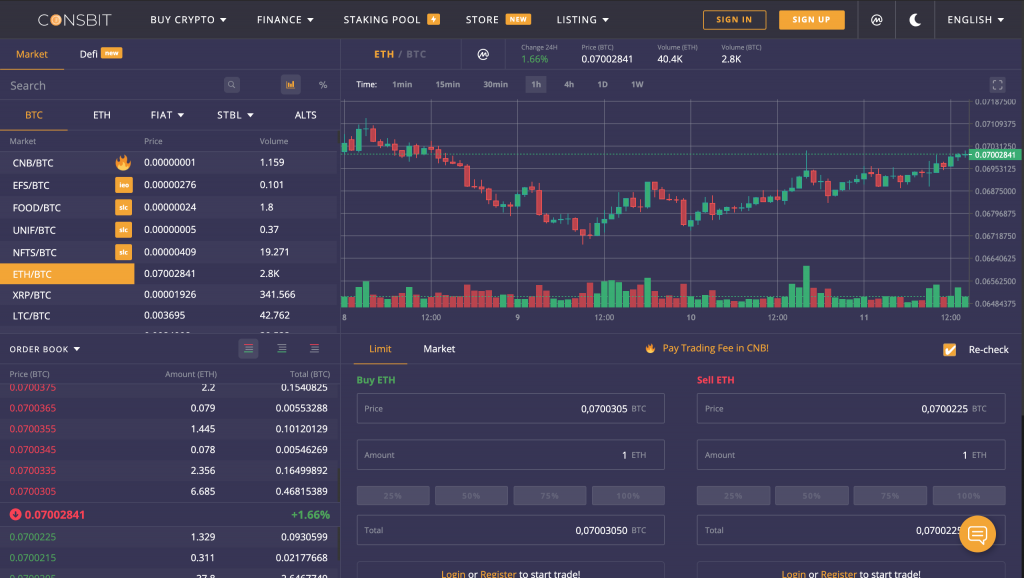 Deposit and Withdrawal of Funds
Coinsbit allows its clients to deposit and withdraw funds in ten fiat currencies, including Kazakhstani tenge, Russian rubles and Ukrainian hryvnia, as well as 264 other rare cryptocurrencies.
Cryptocurrency deposit fees are generally not charged. The exceptions are Sudan Gold Coin and Ethereum Express Coin, for which you need to pay 0.01 SGC and 0.01 EEX, respectively.
Withdrawal fees for cryptocurrencies can vary. Some cryptocurrencies are withdrawn without a fee; to withdraw others, you will have to pay quite large amounts. For example, the commission for withdrawing bitcoins from the Coinsbit exchange is one of the highest on the market: 0.0012 BTC.
Fiat currencies are deposited/withdrawn through the Advanced Cash payment system. Since this payment system does not charge a fee for transfers from wallet to wallet, depositing and withdrawing fiat currencies on the Coinsbit exchange is quite profitable.
The fee for the input of most currencies is 0.8%, and for withdrawal - 0.4%. Turkish lira is entered on the exchange with a fee of 2%, and withdrawn without a commission.

Support and Help
The Coinsbit exchange support team can be contacted by email, through the ticket system, and via live chat on the website. On the forums, you can find information that Coinsbit support also works in Telegram. This method of contacting support is not mentioned on the Coinsbit website, nor in the "Contacts" section, or on the "Support" page. There is indeed an admin named Sergio in Coinsbit's Telegram chat | Coinsbit Support Team, but he does not respond to private messages, and offers to solve all problems through tickets.
If you contact support via the chat on the site, you will be shown your queue number. Then, when the queue reaches you, you will receive an offer to leave your email address since all operators are busy. Leaving the address is useless as no one will respond to it.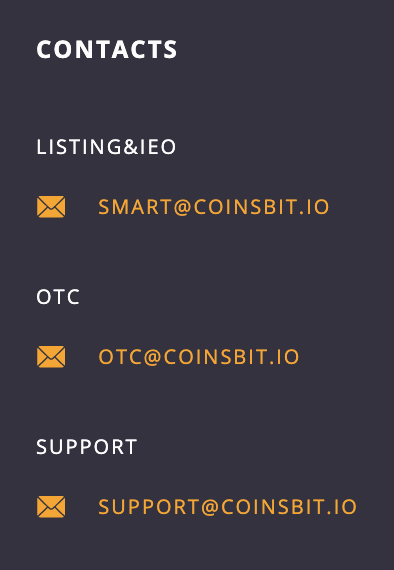 Output
The target audience of the Coinsbit exchange seems to be not traders, but investors. The most elaborated section of the site is "staking pool". Everything else like trading, marketplace, mutual lending, DEX, OTC exchange, and even customer support looks just like add-ons.
A trader on the exchange can only place limit orders. At the same time, both the order book and the trading history contain obviously unreliable information. Mutual lending doesn't work.
The marketplace offers goods at highly inflated prices. The rates in the decentralized exchanger are far from the market ones.
OTC exchange is attractive only for the cryptocurrency seller. The support service is either not responding or sending useless replies.
The Visa and MasterCard logos that are abundant on the site are misleading. Coinsbit does not work with these payment systems, and the deposit and withdrawal of fiat currencies is carried out only through Advanced Cash.
In the "staking pool" everything functions well, albeit with hidden fees.
There are no comments at the moment, be the first