Should you work with Crypterium? This information is detailed in our Crypterium review.
Crypterium Review: Global Bank and Card for Cryptocurrency
How does a cryptobank work? The Estonian company launched Crypterium cryptobank in 2018. The bank carries out standard financial transactions, using cryptocurrencies, and also creates its own credit subtokens.
The Estonian company Crypterium is going to ICO on October 31, 2017. Crypterium's creators plan to raise about $75 million in ICOs in a few months. These funds will become the initial capital of the bank, the public launch of which will take place in the I-II quarter of next year.
All banking operations can be performed in absolutely any currency anywhere in the world. The mobile bank will instantly convert cryptocurrency to fiat money and vice versa.
Crypto acquiring, a crypto transaction platform with an open API for developers and decentralized crypto lending, will interact with each other.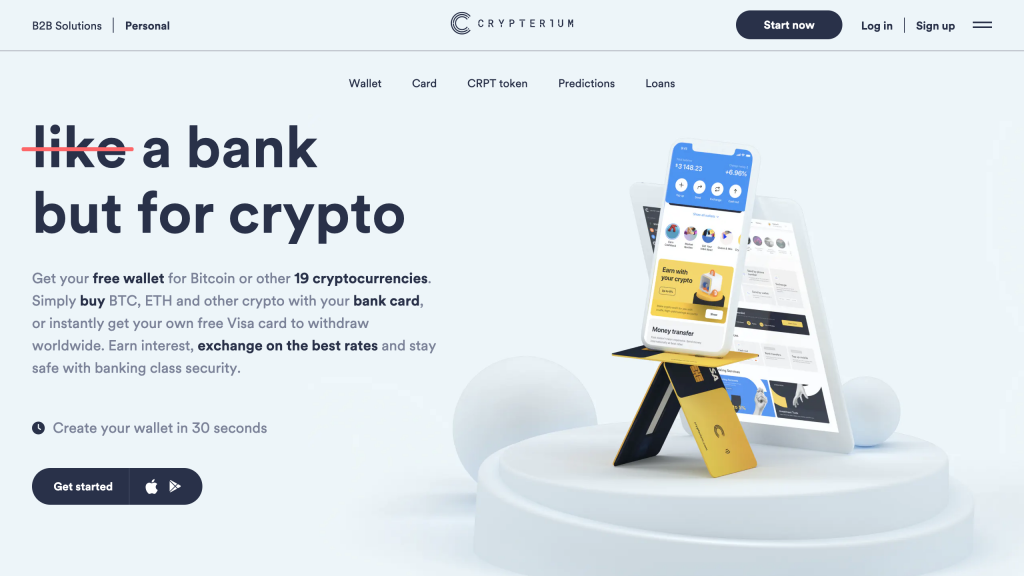 Why Do You Need a Cryptobank?
According to Gleb Markov, CEO of the company, the idea of ​​creating a project appeared after an acute problem was identified - the popularity of cryptocurrencies led to their accumulation among users who are limited in their use. Currently, you can pay with cryptocurrency in a small number of trade and service enterprises, and the possibility of converting into fiat money exists only on exchanges, which are inconvenient, time-consuming, and expensive to use.
Cryptobank will make it easy to turn cryptocurrency into fiat money and pay legally, for example, with bitcoins, even with those sellers who do not accept digital currency.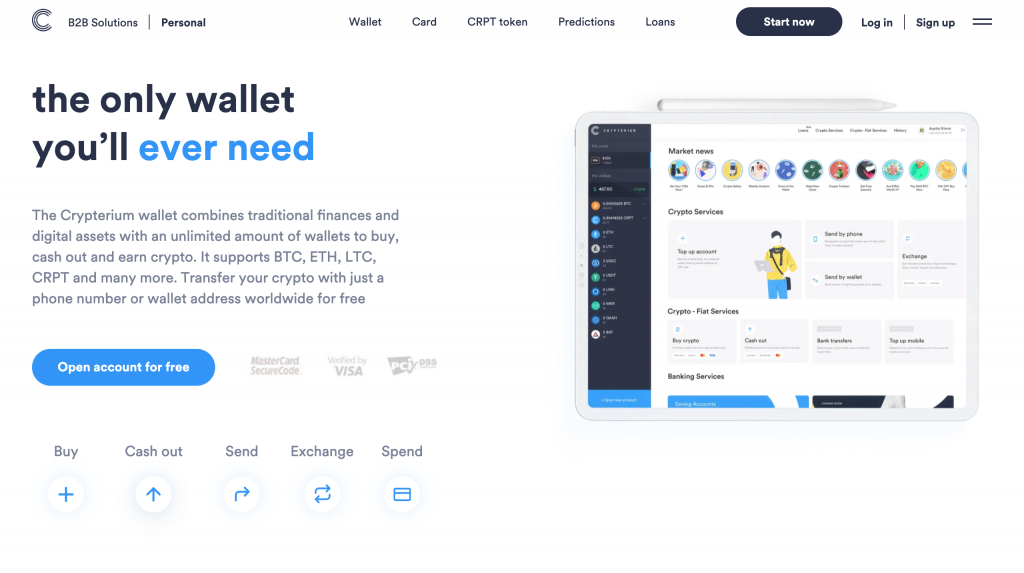 Crypterium Wallet Review
The Crypterium wallet is an intuitive mobile solution that combines traditional finance and cryptocurrencies. This allows you to have a single point of entry and easily manage your fiat and crypto assets by making purchases, cashing out, and storing digital assets as you see fit.
The wallet has multi-currency support along with quick options allowing you to make purchases without delay and buy BTC, ETH, BCH, and LTC without any delay. The Crypterium wallet is integrated into numerous trading platforms, making it a convenient option for consumers interested in finding their way into mainstream finance.
Crypterium wallet allows you to send money remotely anywhere in the world for free with support in over 174 countries. The app is a powerful ally providing you with everything you need to store and enjoy a secure crypto banking experience.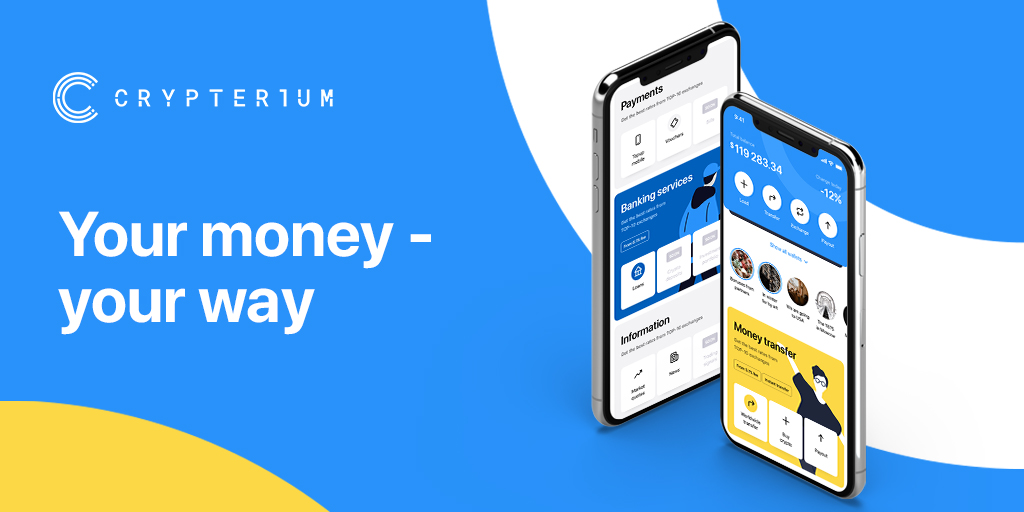 How It Works?
First of all, Crypterium Bank is a mobile application that provideы a set of payment services to its customers, including the issue of virtual cards of payment systems (with the participation of partner banks). All banking operations can be performed in absolutely any currency anywhere in the world. The mobile bank will instantly convert cryptocurrency to fiat money and vice versa.
Cryptobank gives access to cryptocurrency wallets of all three categories: bitcoin, altcoins (the most famous of which is Ethereum)б and digital assets, including ICO tokens of third-party projects (if they are publicly traded on public exchanges).
After registering an account in the system, users of this crypto bank can transfer their cryptocurrency to it. After that, it will be displayed on the fiat balance in the currency selected by the client (dollars, euros, rubles, etc.) at the current Crypterium rates.
To conduct transactions with cryptocurrency in the trading networks of payment systems, customers will be issued virtual Visa, Mastercard, or UnionPay cards with the appropriate details, as well as using the mobile services Apple Pay, Samsung Pay, or Android Pay. This will allow not only paying through ordinary POS terminals with PayPass, payWave, or QuickPass support or sites that accept bank cards, but also withdrawing and depositing cash at ATMs that work with no contact. The bank is heading towards the development of its own ecosystem.
The use of the existing infrastructure of payment systems is uncritical and relevant only at the early stages of project development. In particular, Crypterium could be used at once in thousands of merchants around the world, but the priority of the crypto bank is its own independent ecosystem of partners based on QR-payment technologies.
Crypterium's Crypto Acquiring supports all three crypto-fiat payment schemes:
- crypto2crypto - the platform debits cryptocurrency (any) from the buyer and receives the cryptocurrency (selected) to the account;
- fiat2crypto - the platform debits ordinary money from the buyer (the currency does not matter), but receives the cryptocurrency (selected) to the account;
- crypto2fiat - a buyer trades with cryptocurrency (any), but receives fiat money (in the selected currency).
In order to use borrowed funds, sub tokens must be exchanged for bitcoins on the crypto bank's own exchange with the participants of this exchange. But you will also need to repay loans in the same sun tokens.
The bank accepts cryptocurrencies. If traditional (fiat) money arrives at the seller's account, retailers no longer have barriers to accepting cryptocurrencies - organizational, legal, and accounting. In this case, Crypterium works according to the pawnshop model at the user level (it independently buys cryptocurrency for fiat at the rate of the crypto bank, after which it redirects the user's fiat to outlets based on the order of this user), and does not operate with cryptocurrency in contractual relationships with recipients of money. It allows Crypterium to cooperate with any merchant, including eBay, Amazon, and AliExpress. Funds received from a crypto bank are no different from payments processed, for example, by PayPal.

Crypto Loans. What Is Their Feature?
Crypterium plans to organize the issuance of loans in the created special credit sub-tokens (not to be confused with the main ICO-tokens of the project). In order to use borrowed funds, such sub tokens must be exchanged for bitcoins on the crypto bank's own exchange with the participants of this exchange. The loans will also have to be repaid in the same sun tokens, so the borrower will have to visit the specialized internal exchange again for the reverse process to exchange bitcoins for Crypterium credit subtokens with the participants of the corresponding exchange. At the same time, the cost of sub tokens may already change by this time.
Thus, a kind of decentralized autonomous financial system is formed, in which the bank does not participate, but its participants can earn money. Crypterium only provides algorithms that, based on the scoring of borrowers and system statistics, make decisions on the issuance of new loans and their conditions, as well as decisions on possible additional issues of credit sub-tokens - all through complex mathematical formulas that support a regular but smooth increase in the cost of sub-tokens launched for purposes of crypto lending to the exchange.
These formulas take into account, among other things, the percentage of loans returned. As a result, borrowers gain an easy opportunity to get a quick loan with rates lower than bank rates.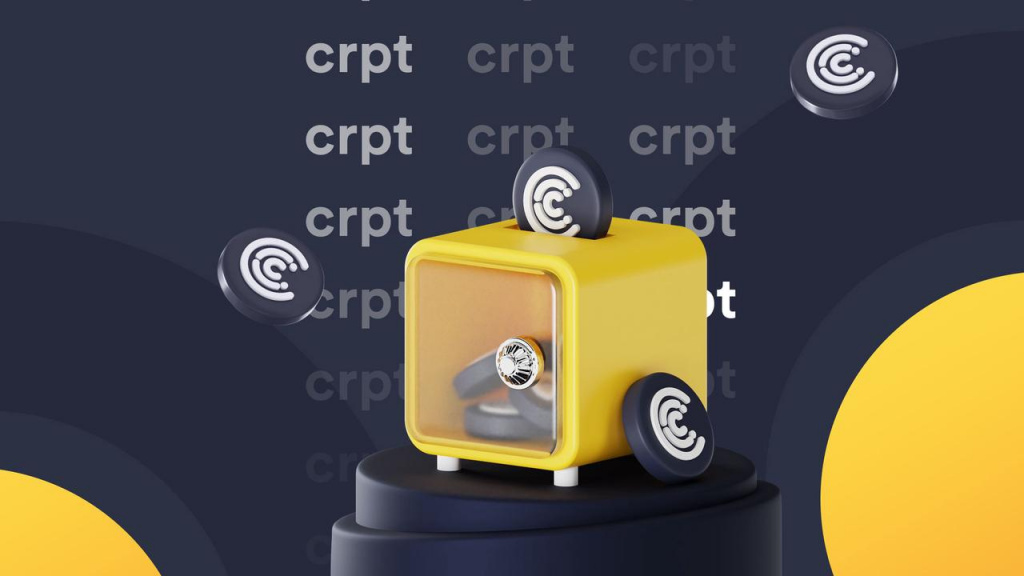 Output
Crypterium is an exciting step towards the future of crypto banking. Rather than treating activities as distinct parts, the platform has boldly moved forward to integrate multiple products related to the core banking business.
You can invest and generate ROI. You can ask for a loan, trade cryptocurrencies, and use a bank card with small fees. You obtain many ways to improve your position in the crypto-banking ecosystem.
Crypterium makes a fairly complex product easy by using an advanced user interface, intuitive design and a way to simplify and improve the consumer experience to make it accessible to anyone looking to invest in cryptocurrencies.
There are no comments at the moment, be the first