Can you trust Deribit? Read in our Deribit review.
Deribit Review 2021: Professional Traders' Opinion
Deribit is one of the few places where you can buy cryptocurrency today. The exchange's product offering has recently been expanded to include Bitcoin and Ethereum futures. It gives traders an alternative to existing Bitcoin-backed futures exchanges. However, is Deribit safe and secure?
In this full Deribit review, we'll cover everything you need to know about this exchange. We'll also give you some great advice related to futures and options trading.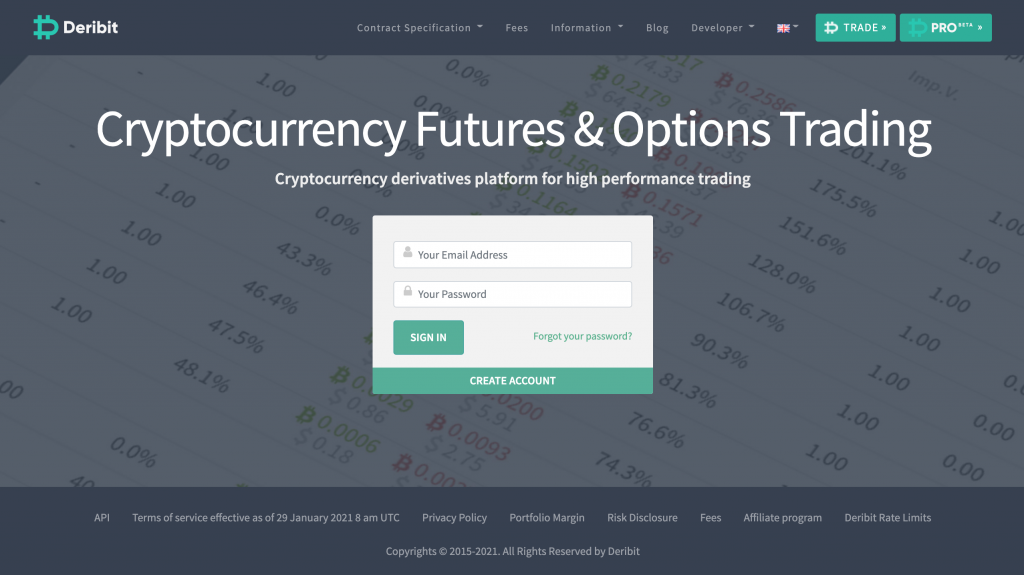 Basic Info
Deribit is an exchange that was established in 2016 and is based in Amsterdam, the capital of the Netherlands. It is operated by Deribit B.V., located at Stationsstraat 2 B 3851 NH, Ermelo.
The exchange was created as a platform for Bitcoin futures and options, but is better known for its options. The founders of Deribit are Bitcoin enthusiasts and former traders. For example, the CEO (John Jansen) was a trader on the Amsterdam Options Exchange.
To date, Deribit has never suffered from any vulnerabilities since its inception. This does not mean that the exchange is completely immune to any kind of problem, but it does show that it is using the correct protocols.
In terms of coins, the Deribit team claims that 95% of users' funds use a cold storage policy. This means that these coins are stored offline in a secure wallet that is protected from air-gap attacks. In this particular case, wallets are stored in many different bank vaults.
In order to make sure that there are no vulnerabilities in the new code and updates that Deribit implements, they have a fairly extensive bounty program.
User Safety
Given that the user is often the weakest link in terms of account security, Deribit offers a number of features to enhance individual security.
First, all communication with the Deribit server is done over an SSL connection. You can verify this by looking at the padlock in the address bar of your browser. This is an additional security measure that you should look out for before logging in to make sure you are not on a phishing site.
Even if your password is stolen, Deribit offers you the option to protect your money by enabling two-factor authentication.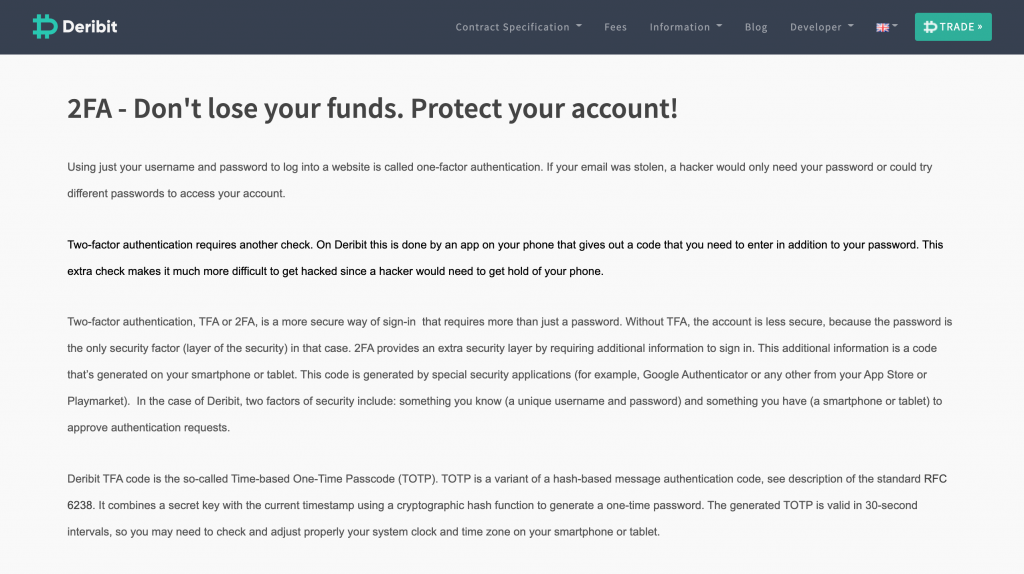 Deribit Fees
Given that Deribit is a trading platform, exchange fees are very important. This is especially true if you are trading large volumes of leveraged instruments that may be subject to liquidation. Here is the Deribit fee structure:
- Exchange fees
Like most other exchanges, Deribit uses a maker-taker model. This means that traders who provide liquidity to Deribit order books will receive a lower commission (or even discount) than traders who take it.
In the case of options trading, Deribit places a cap on fees. It cannot be higher than 20% of the option value.
This rule is relevant only for options that are very deep "out of the money" and are very inexpensive.
-
Liquidation fees
These are the commissions Deribit charges for liquidation orders. Such orders are executed on Deribit accounts where the margin has been depleted. In this case, the bulk of the fees go to Deribit Insurance Fund.
- Fees for account replenishment and withdrawal
Deribit does not impose any commission for depositing an account on the exchange. However, the exchange charges a withdrawal fee. This fee depends on the mining fees currently charged by the network. The provided fee scheme may be slightly different from what you are used to seeing on the open market. That is because, when processing withdrawals, Deribit will charge the user what they think is best suited to the current state of the network.
It may be slightly higher or slightly lower, depending on the transaction batch data.
Registration on Deribit
If you want to register and try Deribit, you need to create an account. You can immediately go to the registration section and enter your data.
After you provide the exchange with your personal information, an email will be sent to you with a confirmation link.
Once you follow this link, your account is fully functional and you can start using it. This is also the perfect time to set up two-factor authentication if you want to protect your account.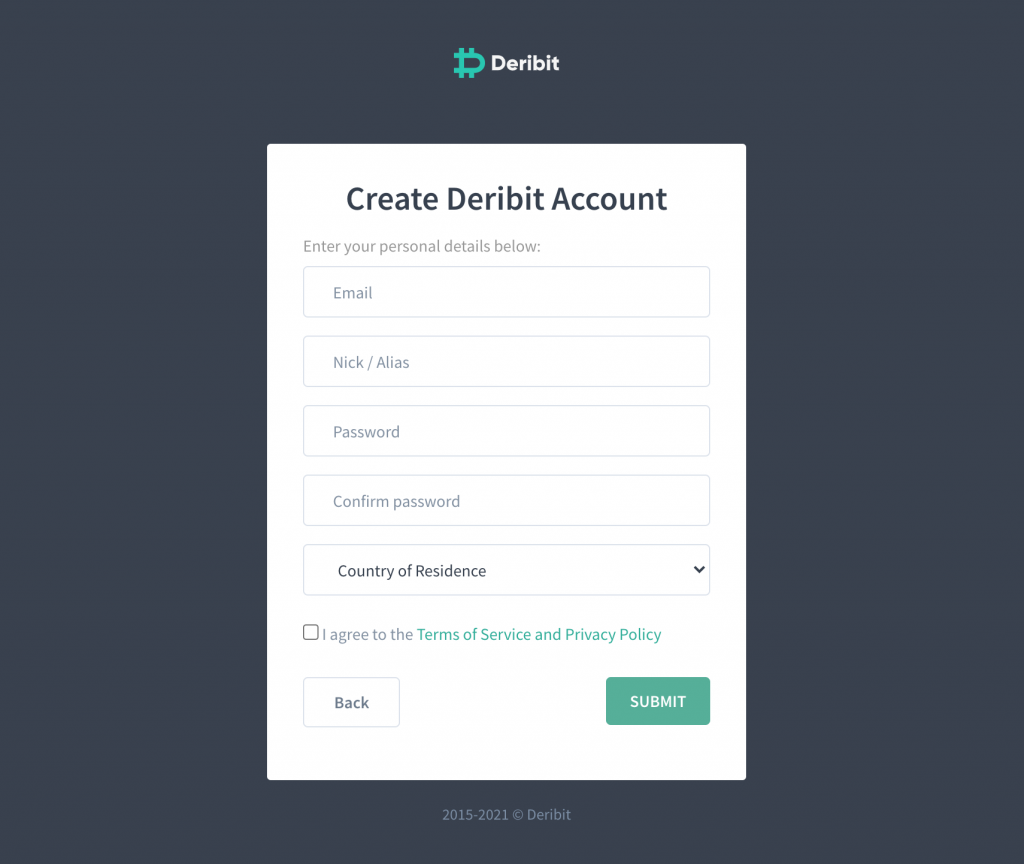 Deribit Testnet
One of the features available on Deribit which makes it outstanding is the testnet, which is open to all users.
It can be thought of as something like a separate demo account. The network is available at test.deribit.com. You will need to create another account, but you can use the same credentials if you want.
After you sign up and create an account, you will be given 10 BTC of virtual funds. Now you can trade them and test your strategies just like on a real account. It is great for traders who are newbies and are just getting started with options and/or futures trading. It can be used by those traders looking to get comfortable.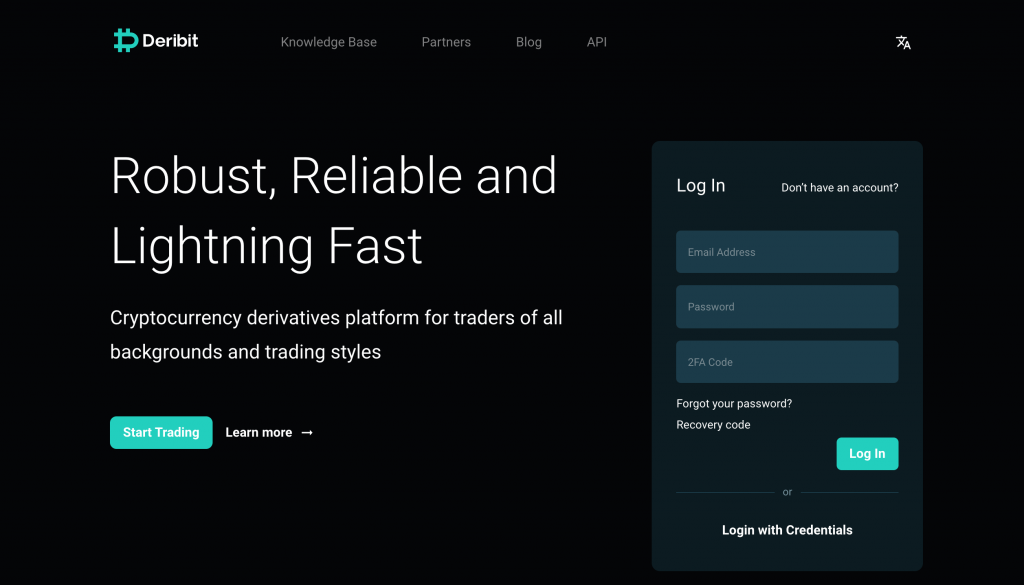 Deribit User Interface
Account replenishment and withdrawal of funds are relatively simple. If you are satisfied with the results of your trading and want to start trading on a real account, you will need to top up its balance.
Deribit is a purely cryptocurrency exchange, and, unfortunately, you will not be able to fund your account with fiat money. Therefore, if you only have fiat money, but want to trade on Deribit, you will need to use the services of so-called fiat gateways.
These include exchanges like Bitstamp, Coinbase, Kraken (or your local equivalents).
Once you have your bitcoins, you will need to send them to your Deribit account. To do this, click on the "Deposit" button in the upper right corner of the panel. Next, you will need to create a deposit address that you can transfer money to.
Create a Bitcoin Deposit Address
Once you receive this address and send the funds, Deribit will wait for one confirmation and fund your account. You can move on to trading very quickly, as most exchanges require at least three confirmations.
The Deribit team says they try to process withdrawals immediately, but in reality, of course, it will all depend on whether funds are available in their hot wallet.
If they need to replenish their reserves from their cold storage, you may have to wait a bit.
Deribit Platform
It's time to move on to the insides and examine the underlying platform. At first glance, everything looks pretty impressive.
The platform seems to be very functional, but at the same time relatively intuitive. Compared to other futures exchanges, it is also more attractive in terms of user interface (UI).
A menu with all trading options, FAQs and other important items is located on the left sidebar. The Deribit.com website and exchange platform have been translated into a number of different languages.
There are also many functions available regarding account management. There is extensive documentation and educational content to help new users get started trading.
The site includes reviews of their trading instruments, as well as general information about the exchange itself. There are also helpful videos that explain the entire process.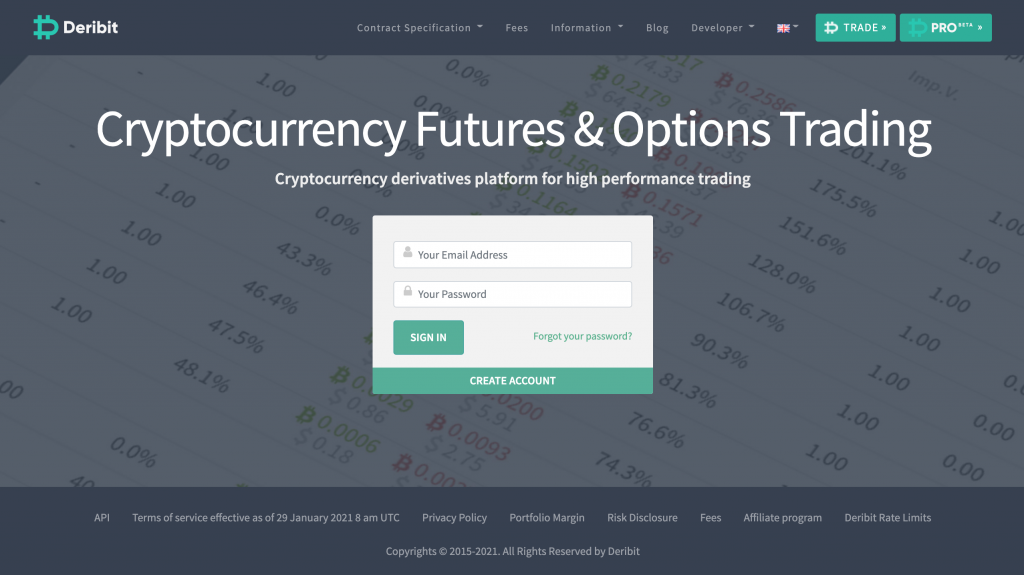 Deribit Mobile App
While mobile apps will never be able to match the functionality of web interfaces and desktop client software, they are very useful for traders who do not want to sit at their desks all day.
They can also come in handy for monitoring open positions. Deribit also has its own app, which is available for both iOS and Android devices.
In this regard, the exchange has an advantage over BitMEX, which has no applications at all. In addition, the app is faster than other stock mobile apps because it connects through an API.
Deribit Customer Support
Traders who have been active during the 2017-2018 bull rally are well aware of how difficult it was to reach customer support on a number of crypto exchanges when needed. Tickets remained unanswered for several days.
Deribit seems to have all the standard support options. The contact page has a number of specific email addresses where you can contact them.
However, there is no online contact section similar to those provided by a number of other exchanges.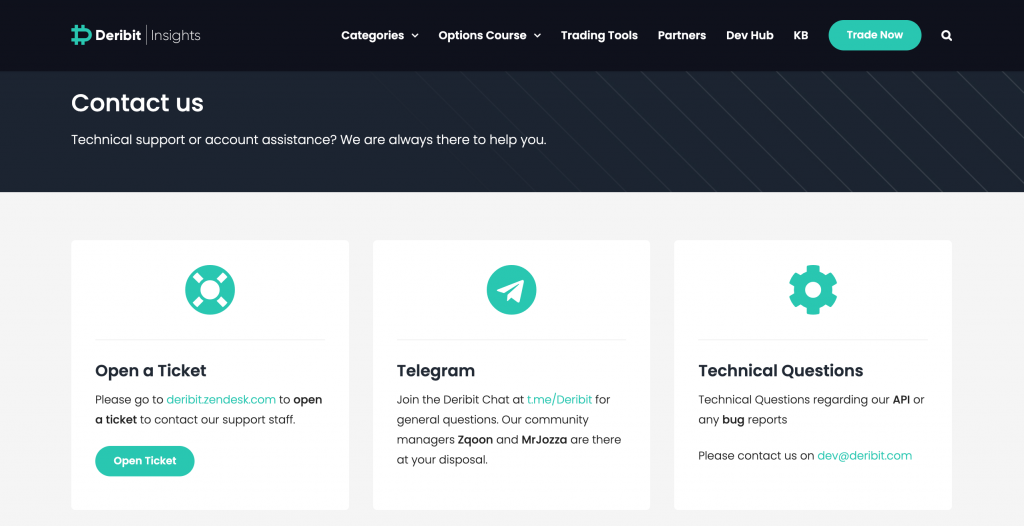 Conclusion
While writing this review, we were pleasantly surprised by the capabilities of Deribit. This is one of the most feature-rich exchanges we've seen, and might well satisfy most professional traders. It is also relatively intuitive and has a wealth of resources for new traders.
We also really liked the concept of a "demo account" on their testnet. This feature can come in handy for all traders who are considering switching from another exchange.
It allows you to study the exchange before entering real money into it.
Yes, there are some issues here that we think should be fixed. However, they cannot overshadow all the advantages of the exchange. It is a great exchange if you want to trade Bitcoin options and a strong alternative to BitMEX in terms of futures trading.
There are no comments at the moment, be the first