Should you work with KuCoin? This information is detailed in our KuCoin review
Read a Complete KuCoin.Com Review 2021
KuCoin is another place where one can purchase or exchange cryptocurrencies. The first impression about KuCoin is that it's a young crypto exchange that is rapidly gaining popularity among users. The website is beautifully designed and translated into 13 wide-spread languages. Also, the site is adapted for mobile devices and there are applications for iOS and Android.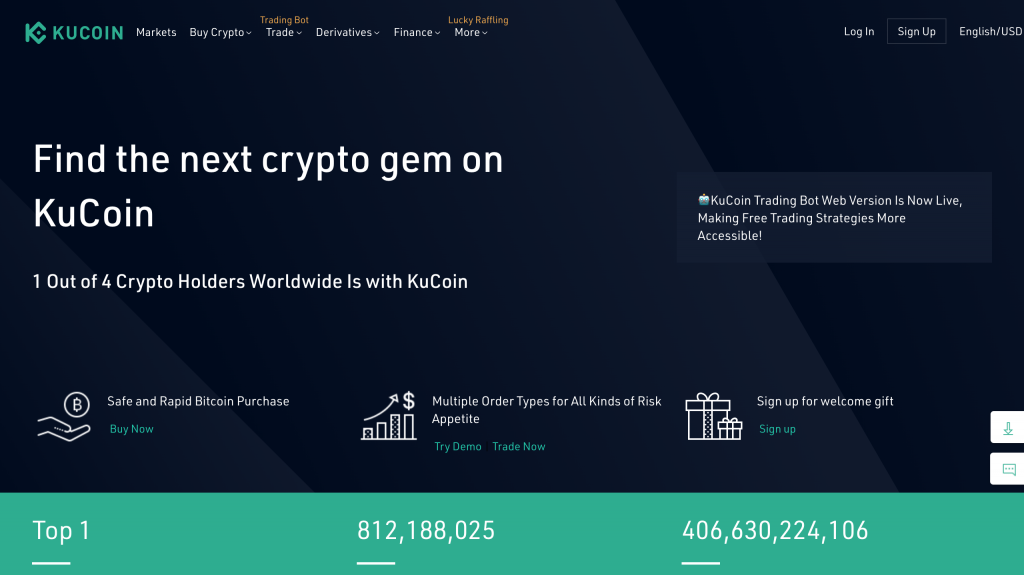 Sign-Up Process
Registration is no different from other exchanges. You need to enter your email and password; then confirm your email.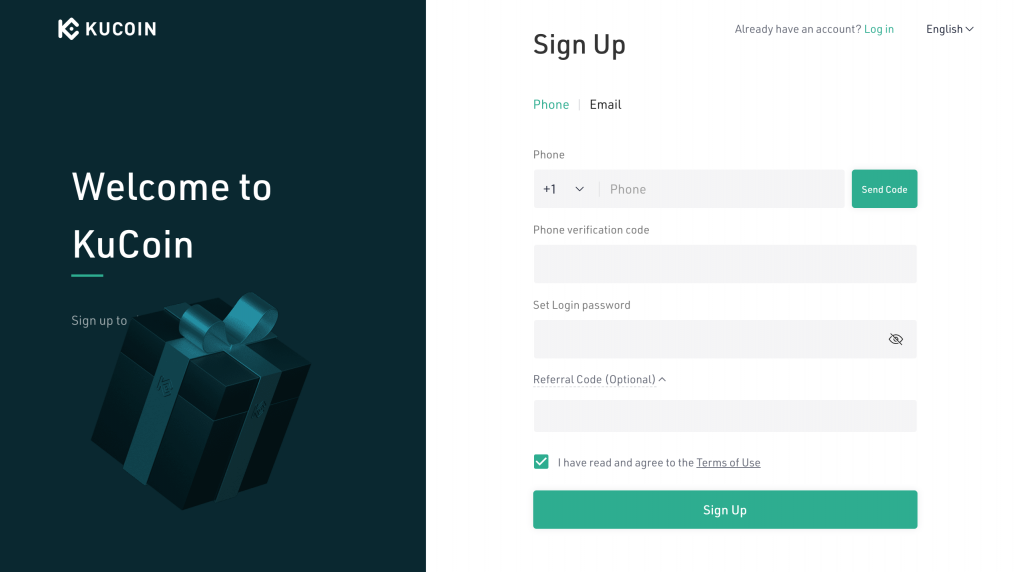 Trading Interface
The trading interface is very simple and straightforward. Every trader, from beginner to pro, can work with it. To go to the terminal itself, you must first select a trading pair from a large list. At the moment, there are 403 of them.
Consider the following points:
1. Graph
It is integrated with Tradingview and has great functionality that many traders love. It is convenient to work with timeframes, use indicators, and build technical figures. Next to the chart, you can find order log, last deals, and ratio of sellers/buyers.
2. Orders
Only market and limit orders are present. A big disadvantage is the absence of at least stop losses, not to mention take profits. It should be noted that all operations on the exchange are very fast due to the high-quality engine of the system (the ability to process 2 million orders per second).
3. Fees
KuCoin is popular for its very loyal fees, which are only 0.1% for the average user. Even this low fee can be made even less using the KCS token. The exchange token holders receive a 50% commission discount, that is, only 0.05% per trade.
It should be noted that the average daily trading volume at the beginning of 2019 is approximately $5 million. By the standards of world crypto exchanges, this is not so much, but the company has an upward trend in this regard.
Safety & Protection Measures
The platform's reliability is at a high level. The company's specialists use many different methods to ensure the security of their users (data encryption, dynamic authentication, 98% of funds stored in cold encrypted wallets, etc.). Although the exchange itself is quite recently on the market and is considered pretty young, the people behind it are real professionals in their field and have more than one project behind them. Now, let's move to discussing more details about account security.
We are offered two-factor authentication, security questions (you need to come up with them in your account settings), and an anti-phishing code. Verification upon the exchange is not required. There is no license from the regulators yet, but the management is already taking all possible measures to obtain it.
Deposit and Withdrawal of Funds
Deposits and withdrawals are available only in cryptocurrencies as the exchange does not work with fiat. There is no fee for replenishment. The exchange itself does not charge a commission for withdrawing funds, only a small fee for miners to carry out a transaction on the network. It won't take you a while to wait.

Customer Support
If you encounter any problems while working with the site, you can go to the "Support" section. It provides answers to frequently asked questions that are available in English and Chinese.
You can also use the online chat with a support agent and get an instant response or create a ticket. We created a ticket with a question to technical support and the answer was received in 70 minutes, which is very good.

Output
Taking into account all the provided information about KuCoin, we can conclude that it stands out from other exchanges by being fast and thanks to the uninterrupted functionality of the system. Yobit and Poloniex cannot boast of a high security level and unstamped design. In general, this is an ordinary, well-executed exchange without obvious weaknesses.
Main pros:
- Low fees
- Partnership programs
- A wide variety of crypto pairs
- Possibility to vote for future coin listing
- Fast website performance
- Informative and user-friendly design
Main cons:
- No margin trading
- Lack of fiat money for trading
- No stop loss order
- Technical support works only in English and Chinese
There are no comments at the moment, be the first